Recently, sapphire released a special AMD radeon 6700 graphics card, which is also the only manufacturer. We haven't seen any other brands yet. We seriously doubt that sapphire came from the transformation of the stored mineral card. Previously, we have seen the retail packaging box of sapphire 6700 platinum version, but there is no price. Now, it is finally on the shelves, but it is not sold separately, but a host "silver horn king" carried on sapphire**
Access:
The host has five configurations, including 6700 platinum graphics card, Ruilong 55600x processor, MSI b550m mortar motherboard, Weigang XPG Weilong ddr4-3200 8GB × 2 memory, Weigang S11 Lite 512gb SSD, sepre Lengshan radiator, MSI MAG a650bn power supply, sapphire nitro M01 chassis, the price is 6349 yuan.
Compared with RX 6650 XT platinum version and MSI a520m motherboard version, it is 460 yuan more expensive.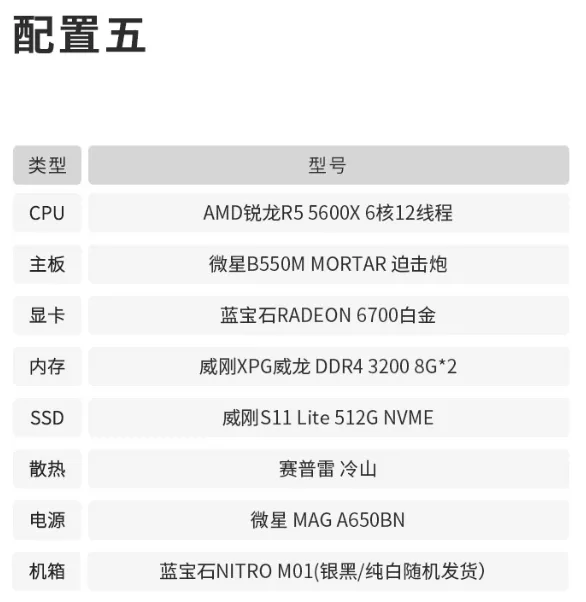 Sapphire 6700 platinum graphics card is based on Navi 22 GPU core, 2304 stream processors, 64 ROP units, 144 texture units, nominal core frequency of 2230-2495mhz, 160 bit 10Gb gddr6 video memory (micron), equivalent frequency of 16ghz, three DP and one HDMI interface.