It was reported on June 10 that at noon today, the @dota2 official wechat released the "announcement that the current dota2 client cannot play games with the same IP". The announcement pointed out that in response to the situation that some players have been unable to play games with IP since yesterday, officials have actively communicated with valve, and valve engineers are urgently solving relevant problems.
Access: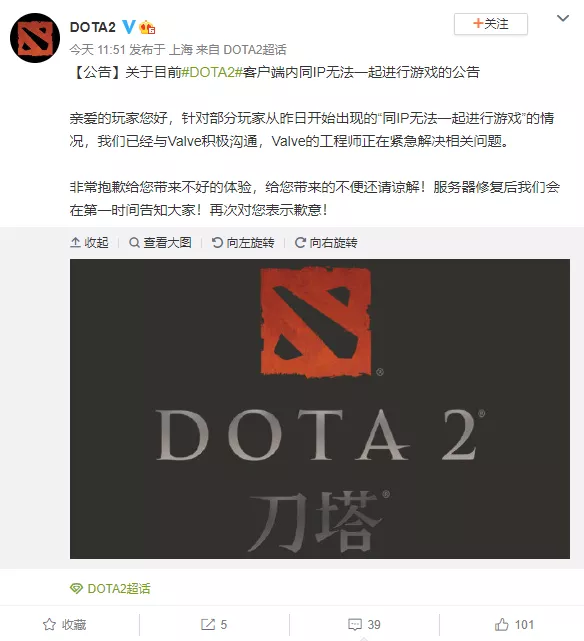 The bug caused many netizens to roast in the comment area of the microblog. Some players said: "it's true that you find different bugs every day" "how many apology announcements this year?" "There are still problems that have arisen in the past 16 years", and so on.

It is understood that dota2 carried out a 7.31d game update yesterday. The new hero Marcy joined the captain mode . In addition, it also launched functions such as war reporting and illusion of jewelry effects. The system such as pull black has also been optimized and improved.
At the same time, this update also includes significant performance optimization, so that Vulkan renderer can operate without failure Dota now supports VK_ EXT_ graphics_ pipeline_ Library extension, which can eliminate the drawing time fault caused by shader compilation
However, this function only supports NVIDIA Vulkan beta drivers at present, and will also be supported by mainstream drivers of NVIDIA, AMD and Intel in the future.