In 2022, the auction of Buffett's charity lunch started at 7:30 p.m. local time on June 12 (7:30 a.m. Beijing time on June 13) and lasted until June 17. The starting price was $25000. It was the last auction of Buffett's charity lunch. The first auction of Buffett's charity lunch began in 2000, and eBay has been used as a bidding platform since 2003. So far, it has raised $34million. Due to the epidemic, Buffett's lunch has been suspended for 2 years.
Access: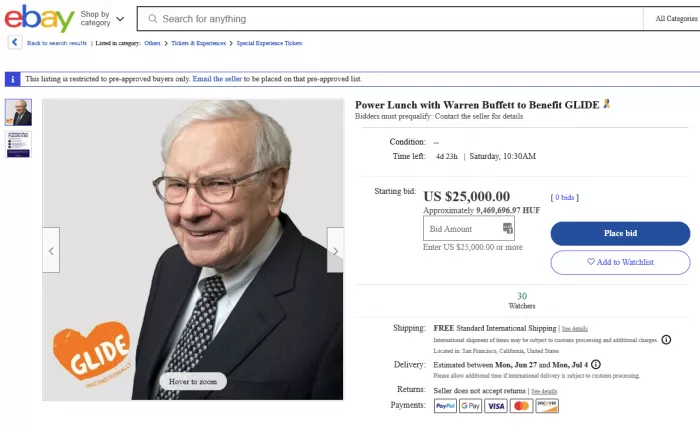 This year's event is the "last one", but the exact reason is not clear at present. Buffett, 91, did not explain his decision to end the auction of Buffett's lunch after this year.
As a luncheon attracting worldwide attention, Buffett's lunch is not only regarded by business elites as an opportunity to learn and communicate with the "God of stocks", but also an excellent opportunity to prove their financial strength and even make headlines. In the past 20 years, there were also many Chinese faces among the bidders who had lunch with Buffett, including duanyongping, the founder of bubagao, zhaodanyang, the private equity tycoon and the general manager of the pure heart asset management company, and Zhu ye, the chairman of Tianshen entertainment.
The most recent Buffett lunch was in 2019. At that time, sunyuchen, the founder of the wave field, bought the lunch at a record price of $4567888, but netizens accused him of over marketing and keen on hype.