On June 12, the owner of Wenzhou Tesla lost control issued a "personal statement" on his personal social account, saying that the contents of his previous apology letter, had a bad impact on the former activist car advocate, Mr. Han and Mr. Shanghai Feng, causing public misunderstanding, apologized to him, and expressed that the last paragraph of the apology letter was not his own intention**
The statement said: I issued a letter of apology on May 9. Because the content was not drafted by me, the last paragraph involved three riders who had helped me: Mr. Feng in Shanghai, Ms. Zhang in Henan and Mr. Han in Tianjin, and used words I didn't know, such as "bewitching", which caused widespread misunderstanding among the public.
Due to my weak pressure resistance and shallow understanding of legal knowledge, I thought that the other party had the the final say in the enforcement, and the other party also said that after the letter of apology was sent, I would be lenient and submit an application to the court for closing the case. Therefore, after this event, I will also enhance my legal awareness and stress resistance in my future life.
However, in any case, the first letter of apology has brought obvious troubles to the above three outsiders, so I solemnly declare: the last paragraph of the letter of apology is not the expression of my true meaning, and my past words and deeds have nothing to do with them. I deeply apologize to them for the misunderstanding and troubles caused thereby, and ask them for their understanding**
At present, Tesla has not responded to this matter and will pay follow-up attention.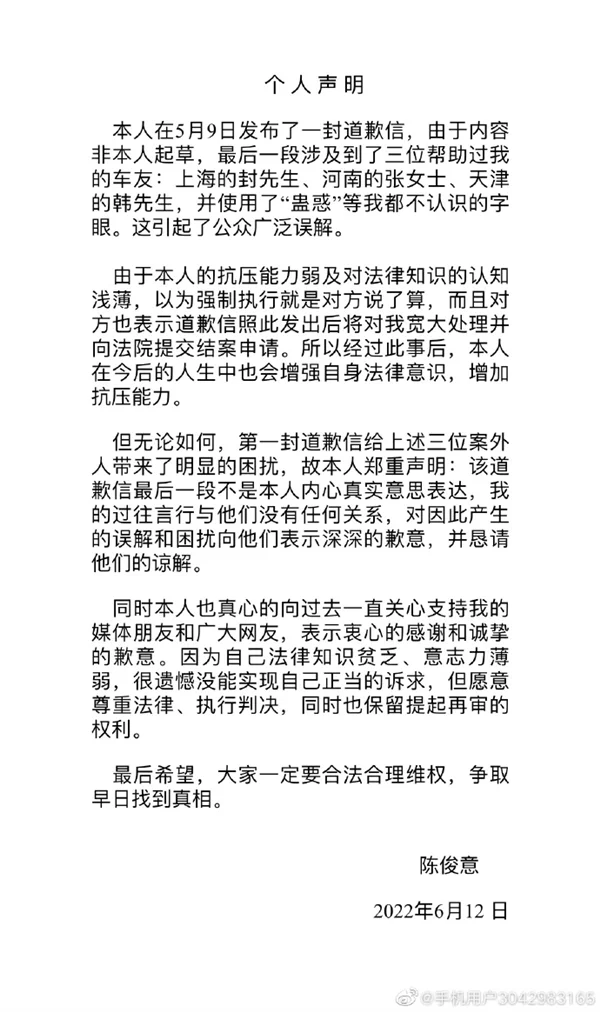 It is reported that Mr. Chen, the Wenzhou owner who had previously accused Tesla of "brake failure", issued a letter of apology on his personal account, admitting that he had fabricated "Tesla brake failure and automatic acceleration" and apologized to Tesla.
In the letter of apology issued by the Wenzhou owner on his personal account, it was also revealed that when he carried out the above-mentioned acts, a "car owner surnamed Feng" in Shanghai contacted him and introduced him to a platform. The platform arranged a special lawyer for him and contracted all the expenses.
Moreover, Ms. Henan Chezhan and Mr. Han, the owner of Tianjin, have also contacted him; During this period, Ms. Zhang invited him to write a joint book on class action, but she refused.
As for this letter of apology, Ms. Zhang and Mr. Han also made clear their attitudes respectively, is a false statement, and asked Wenzhou car owners to apologize immediately, saying that this letter of apology poured "dirty water" on them**