On June 10, at the 2022 Yabuli China entrepreneur forum, zhouhongyi, chairman of360 group, stressed that 360 did not build cars, we just supported others to build cars Zhouhongyi said, "I didn't even make mobile phones. Making cars is very serious. We need to find a professional team to do it, so we chose Nezha** We provide Nezha with backstage security and digital system. I'm not in the field of car making. Don't give me this high hat.
Access: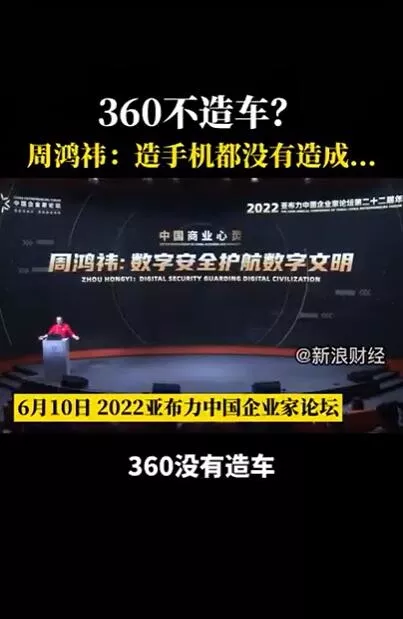 According to the data, in April 2021, Nezha automobile started round D financing. In October of the same year, 360 announced that the company would invest a total of 2.9 billion yuan in Hezhong new energy, the main body of Nezha automobile, and become the second largest shareholder
Insiders pointed out that when the wave of smart cars is coming, it is normal for Internet companies to build cars next time. It's natural for 360 to choose to build a car.
In those days, 360 made mobile phones in the hope of using mobile phones to lay out the ecology. Nowadays, smart electric vehicles are ecological ports with higher value than smart phones. 360 and Zhou Hongyi must enter the market anyway, which is an unprecedented opportunity to rise.