Celsius network is a decentralized financial (defi) platform and one of the largest cryptocurrency lenders. On Sunday night, local time, when the cryptocurrency market had fallen freely, the controversial cryptocurrency lender suddenly announced that it would suspend the withdrawal, swap and transfer businesses of all customers. It is reported that the platform has 1.7 million customers.
According to the data of coinmarketcap, the company's cel token responded quickly, falling to $0.15 within one hour from the previous high of $0.49 earlier on Sunday, down 70%.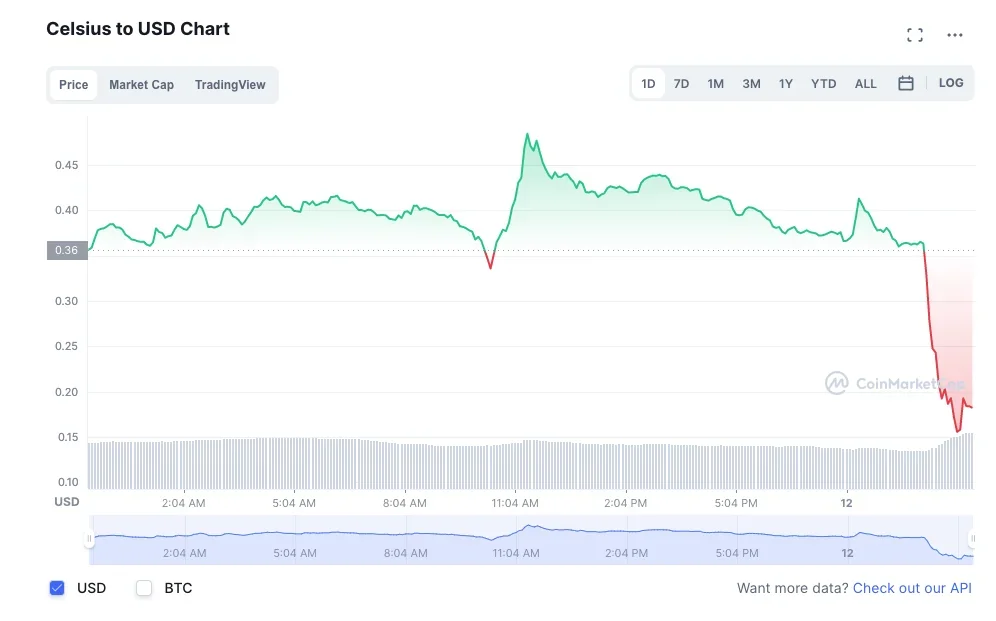 When Celsius shared its news, other cryptocurrency markets also had a hard time, although nothing could compare with the sharp decline of cel. However, it is shown that bitcoin fell 9% on Sunday, Ethereum fell 9%, BNB fell 9%, Cardano fell 11%, Solana fell 12% and dogecoin fell 9%.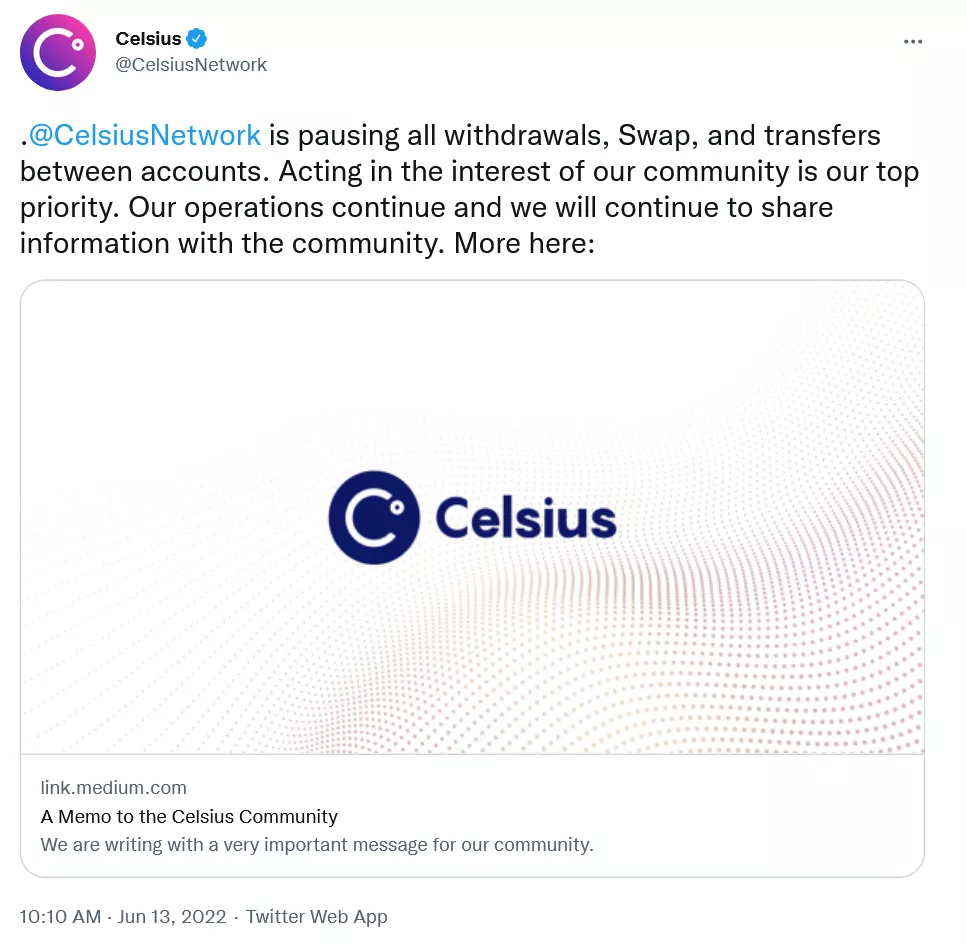 Some people have questioned the high yield of Celsius networks, its connection with the failed stable currency Terra and its reserves. It is reported that the value of assets on the platform fell by half from $24billion in December 2021 to $12billion in May. According to the financial times, US $1billion was lost from the system between March and may.
In a blog post entitled "damn the torpedoes" on June 7, the company said, "according to the provisions of our comprehensive liquidity risk management framework, Celsius has sufficient reserves (and enough ETH) to fulfill its obligations."
On June 12, an email to all customers began like this: "due to extreme market conditions, today we announced that Celsius would suspend all withdrawals, swaps and transfers between accounts. We took this action today to make Celsius better fulfill its withdrawal obligations for a period of time."
Celsius was launched in 2017 to provide customers with high returns on cryptocurrency deposits and lend them to other cryptocurrency companies. It shares this business model with blockfi, NEXO and other players.
In theory, the way Celsius works is basically the same as that of ordinary banks, except that it uses cryptocurrency. It collects deposits and lends them out. But unlike banks, Celsius has no government guarantee from FDIC, which enables people's interests to be protected in the event of bank failure.
Skeptics have repeatedly warned that the Celsius network is bound to fail. Some people even think that Celsius is a Ponzi scheme.
As for its size, Celsius touches on many other parts of the cryptocurrency market. For example, Celsius network borrowed 500million US dollars from tether, a stable currency linked to the US dollar. The loan is secured by bitcoin. Celsius CEO Alex mashinsky told the financial times last year: "if bitcoin falls, they will give us additional margin, (then) we must give them more bitcoin."
Even investors who are not directly involved in cryptocurrencies have access to Celsius. Caisse de D é P ô t et placement Du Qu é bec (cdpq), Canada's second largest pension fund, invested as part of the company's US $400million equity.
In the past year, many regulators have made it clear that they regard these high-yield cryptocurrency lending products as unregistered securities products. Several US regulators have expressed interest in the operation of the Celsius network. Only on September 17, 2021, New Jersey issued a stop order to Celsius network, Texas arranged a hearing to determine whether a stop order should be issued, and Alabama asked Celsius why it should not be banned within one month. In October, 2021, New York attorney general Letitia James listed the company as one of the platforms required to provide information on its activities and products. Celsius said that it was cooperating with the state's regulators.
In addition, the CFO of Celsius was arrested in Israel in November on suspicion of money laundering, fraud and sexual assault. When the defi platform badgerdao was hacked in December, blockchain activities showed that the Celsius network lost $54million worth of cryptocurrency. Celsius said that neither customer nor user assets were affected.
It is reported that Celsius pointed out in its explanation to customers that the ultimate goal of the company is to stabilize liquidity. However, it did not give the date on which customers might expect to withdraw money again. It also warned that "this process will take time and may be delayed".