According to latepost, Luo Yonghao said that less than 100 million direct debts have been incurred. Originally, it was planned to be completed by the end of March this year, but because of some unexpected disputes at the end of last year, the time had to be postponed to around November this year. In order not to miss the time window to start a new business and start the work of the new company as soon as possible, Luo Yonghao signed a long-term agreement with a friend. Make a friend to help LuoYongHao pay off his remaining debts on a monthly basis. LuoYongHao continues to work for making a friend. The work that was originally half a year will be gradually completed in the next few years.
Access: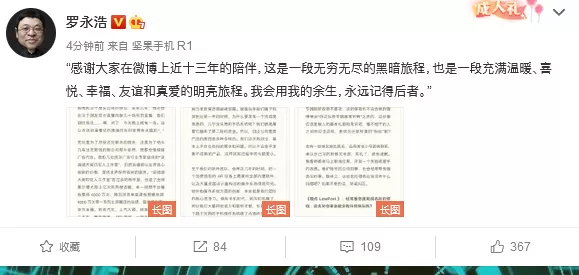 Luo Yonghao said on his microblog: "thank you for your nearly 13 years of company on the microblog. This is an endless dark journey and a bright journey full of warmth, joy, happiness, friendship and true love. I will spend the rest of my life and always remember the latter."
In addition, last night, Luo Yonghao announced that he would withdraw from all social platforms, which triggered a heated discussion. According to the surging news, it is learned from insiders that Luo Yonghao will continue to receive advertising endorsements and will also continue to live broadcast and bring goods. At the same time, its ar company has officially opened recruitment.
LuoYongHao's microblog account will be renamed "make a friend live room". LuoYongHao himself will use the new microblog account "Product Manager LuoYongHao" to conduct professional discussions and publish rumor refuting content.