It is reported that Microsoft disclosed dozens of new games for its subscription service Xbox game pass, some of which came from several large publishers acquired by the company in recent years. On Sunday, local time, at the press conference held in Los Angeles, the United States, Microsoft began and ended with two large-scale games that will be launched next year by Bethesda, a publisher acquired by Microsoft in 2020.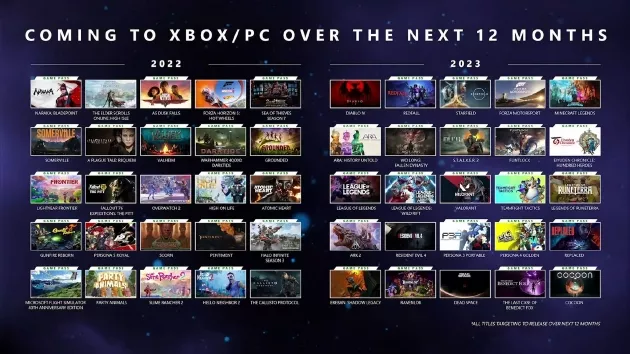 "Redfall" is a first person shooting game in which players fight vampires; Starfield is a role-playing game based on space. Microsoft also focused on Activision Blizzard's "overwatch 2", which will provide early access in October and provide a free multiplayer competition mode, as well as Diablo IV in 2023.
These four games will be on xbox Provided on game pass, this service is the core of Microsoft's game strategy and the main reason why the company paid $7.5 billion for Bethesda and purchased Activision Blizzard with nearly $69billion. Xbox game pass allows users to pay a monthly fee for unlimited access to all the Games in the service, and the number of these games is increasing. Microsoft has high expectations for game pass and has made a big bet. The company disclosed in January this year that the monthly game service has obtained 25million users, and users need to pay Microsoft at least $10 a month.
**Instead of competing with Sony and Nintendo in terms of hardware, Microsoft is committed to building Netflix in the game industry, and in many ways, the company is close to doing so. At the exhibition, at the end of almost every game, there was a prompt: "use game pass to enjoy the game immediately", constantly emphasizing the company's strategy.
Microsoft's game exhibition is a traditional annual activity of the company. It is usually held during E3 trade show. The world's largest video game publishers gather to show the latest and upcoming game projects. However, this year's E3 exhibition was canceled, and other publishers such as Ubisoft and Sony canceled their annual exhibitions, which made Microsoft's activities held on Sunday particularly concerned by the media and game lovers.
During the exhibition, Microsoft also announced the launch of a new minecraft derivative game called minecraft legends, as well as several colorful independent games, such as an action game named ravenlok and an adventure game named cocoon. All these games will be available to players on game pass on the day of their official launch.
A highlight of this exhibition is pentiment, a medieval narrative adventure game with unique artistic style, developed by Obsidian entertainment, a developer of Microsoft. Although this game has no battle scenes and may not attract a large number of players, it may be very suitable for game pass. Many experimental games are very suitable for this service. These games do not necessarily need to obtain a large number of sales.
Microsoft has also positioned game pass as a service that benefits other free games. During the exhibition, riot Games said that it would cooperate with Xbox to allow game pass subscribers to obtain paid content for their games, including League of legends and Valentine. All players who subscribe to game pass can get all the heroes in these games for free, and these heroes are usually sold separately.