Following the exposure of pricing and functions three days ago, today, telecom CEO Pavel durov officially announced that telecom premium will be launched this month。 Durov said that the existing free functions and services will continue to be free, but users who buy Premium can get additional functions, faster transmission speed and more resources.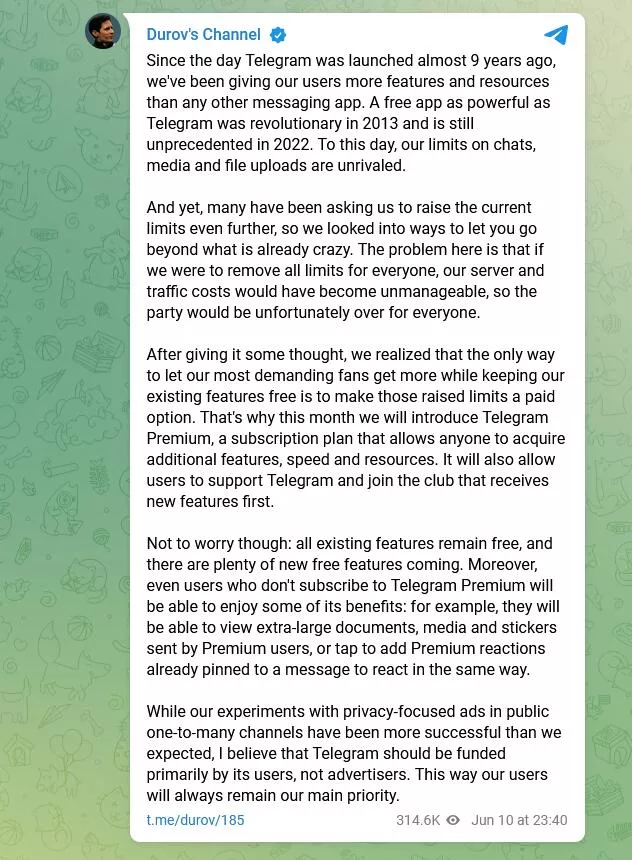 In the statement, durov said that the company has experimented with privacy focused advertising on several public one to many channels, and these experiments have been more successful than expected. But he finally thought that it would be better for telegraph to be funded mainly by its users through the advanced subscription model.
Premium subscriptions will make telegram a more dynamic company because it will have a source of revenue to help it continue its operations. So far, things have looked good for those who want to stay on the free package. It is hoped that telegraph will not break its promise to keep the existing functions free in the future.
The list of additional value-added services that the previously exposed telegraph premium users will get if they pay $4.99 per month:
Relax restrictions:
It supports up to 1000 channels, 20 chat folders, 10 pushpins, 4 accounts (in one application), 200 pushpins in folders, 20 public links to channels and groups, 10 favorite stickers, and 400 gifs.
4GB single file upload:
Currently, telegram allows you to upload files with a size of 2GB.
More symbols in the introduction:
Use 140 characters in your profile instead of the default 70.
Longer description:
Use longer descriptions for uploaded photos and videos.
Faster downloads:
Unlimited media and file download speeds.
Voice to text:
Telegraph premium will provide automatic transcription of voice information.
No advertising:
There are no more advertisements on public channels.
Unique reaction expression:
Provide additional animated responses to chat entries.
Advanced sticker:
Exclusive enlarged sticker with additional effect, updated monthly.
Advanced chat management:
Tools for setting default folders, auto archiving, and hiding new chats from non contacts.
Archive Badge:
The badge next to the name shows that the subscriber is a paid telegraph supporter.
Animated profile image:
Animated avatars in chat lists and chat records increase opportunities for self-expression.
Advanced app Icon:
The application icon of telegram can be selected on the main screen.