Samsung was once regarded as the most threatening competitor of Qualcomm in the field of smart phone chips, but it has fallen far behind today. In the first quarter of 2022, in terms of revenue share, Samsung ranked fourth in the smartphone chipset brand rankings. Qualcomm, apple and MediaTek are far ahead of Samsung.
Access: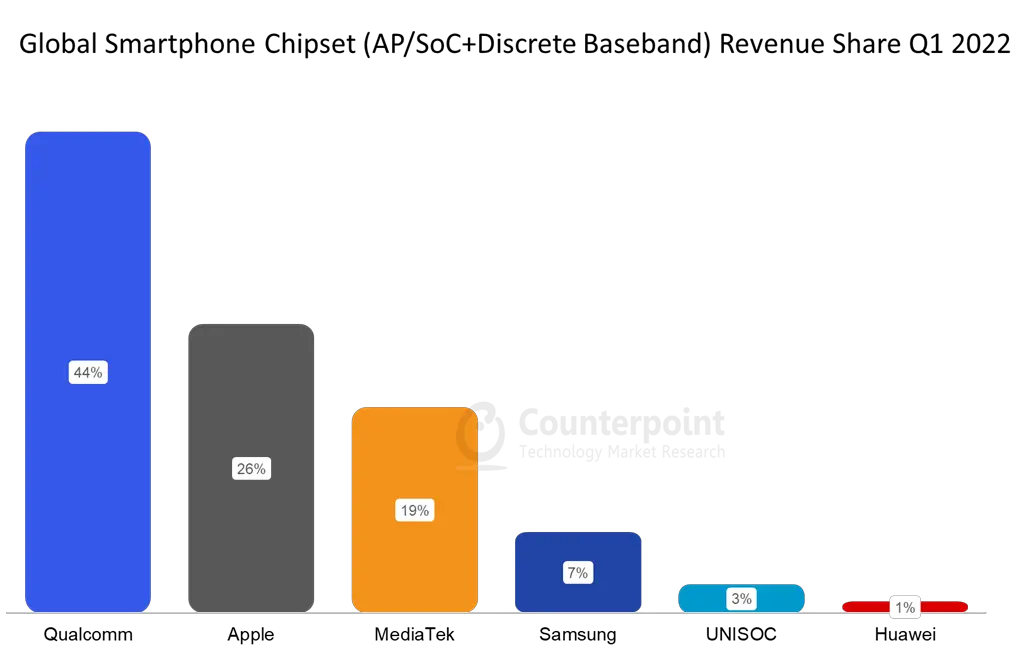 According to the latest data from counterpoint research, in the first quarter of 2022, Samsung's revenue share in the global smart phone chipset market was only 7%. Qualcomm is the number one brand with a revenue share of 44%. This quarter, Apple Its share of revenue is 26 per cent, while MediaTek's share of revenue is about 19 per cent. The emerging chipset brand unisoc has a revenue share of 3% and Huawei has a revenue share of 1%.
According to the report, due to the launch of exynos 1280, Samsung's shipment actually increased compared with the fourth quarter of 2021. This product is used in Galaxy A33 5g, Galaxy A53 5g and Galaxy M33 5g. However, since Samsung used snapdragon chipsets in more Galaxy S22 series this year, its revenue share was taken away by Qualcomm.
It is rumored that Samsung is actively transforming and manufacturing customized chipsets for its flagship Galaxy smartphone. It is reported that the company has created a team composed of about 1000 engineers to conduct research on such chipsets. The first such product may be used in Galaxy S25 in 2025.