After the decline of the teaching and training business, New Oriental announced the transformation to bring goods not long ago. In the initial stage, there was little popularity, and thousands of people watched the live broadcast room. Yesterday, the bilingual live broadcast brought goods suddenly exploded, with a single day turnover of more than 10million yuan, and nearly 4million people watched the live broadcast. On the morning of June 10, there were tens of thousands of people online in the live room at the same time. At 9:45, dongyuhui, a famous New Oriental English teacher who had brought 500000 students in eight years, came on stage. While explaining the products in Chinese and English, he made jokes with netizens. More than 6700 peaches were sold in a few minutes. As of 11:00 on the same day, 34000 orders for the product had been sold.
At about 22 p.m. that day, after YuMinHong appeared in the live room, the peak number of online people in the live room exceeded 100000.
Affected by this, the share price of New Oriental online rose nearly 40% during the session and 37.58% by the end of midday trading.
Yoyo, the anchor of New Oriental, said in an interview, "it has been six months since Oriental selected the live studio, but there have been more people in this week than in the past six months. In fact, life is not so lucky. Let nature take its course and do what it takes."
After yesterday's live broadcast became popular, the Oriental selection of New Oriental entered the top3 of Tiktok live broadcast and became one of the top anchors
According to statistics, as of around 23:00 on June 10, Oriental selection disclosed that the Gmv on that day had exceeded 10 million yuan, with more than 90000 transactions and 3.95 million viewers in total**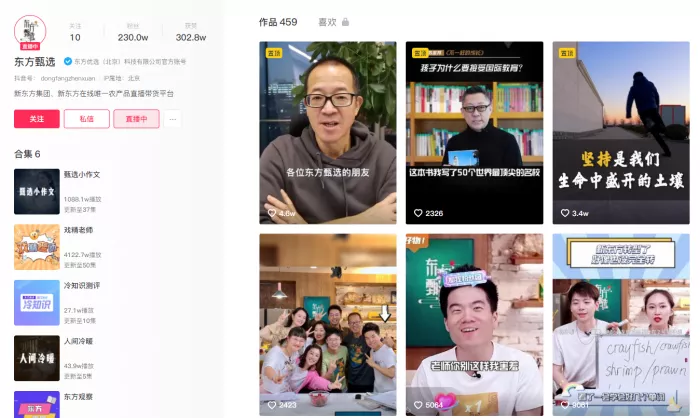 By the time of press release, the number of fans of the Oriental selection account under New Oriental had exceeded 2.3 million. Before yesterday, they had only more than 1 million fans, rising by one million in one day.