These days, bumpers are generally called "cross-border": car makers make mobile phones, and mobile phone makers make cars.
Apple's plans to build a car, it seems, have run into trouble again.
According to The Information Tech, the Apple Car project has stalled for eight years, with test cars nearly crashing into people on the streets of Silicon Valley, executives jumping ship, and even Craig Federighi, the head of software engineering, being "particularly skeptical" of the project.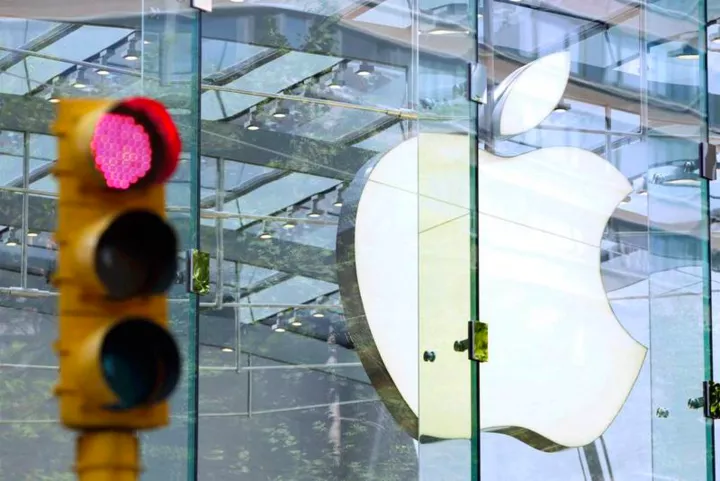 The last time the Apple Car came into the spotlight was late last year - it had no steering wheel or pedals, and an interior designed entirely around self-driving, in the same vein as Tesla's 'self-driving taxis'. Or rather, they're both more like trains and less like cars.
Eight years have gone by in a blur. Competitors Tesla and Waymo are evolving by the day, while Apple Car is still struggling to find its 'big break'.
Can the mouse be opened too?
The biggest thing about the Apple Car is that it's secretive. All Apple releases are "official" - "landmark" and "groundbreaking". So, taking all the recent unofficial news together, we can probably come up with this Apple Car.
In profile, the body looks like a large sleek mouse, with the curved part of the 'mouse' being the roof. The luggage compartment can be raised when needed and lowered when not in use. Former design chief Jony Ive, who worked on the project as an advisor, believes the Apple Car team needs to focus on the boldness of the vehicle's design, rather than deliberately hiding what makes it 'different'.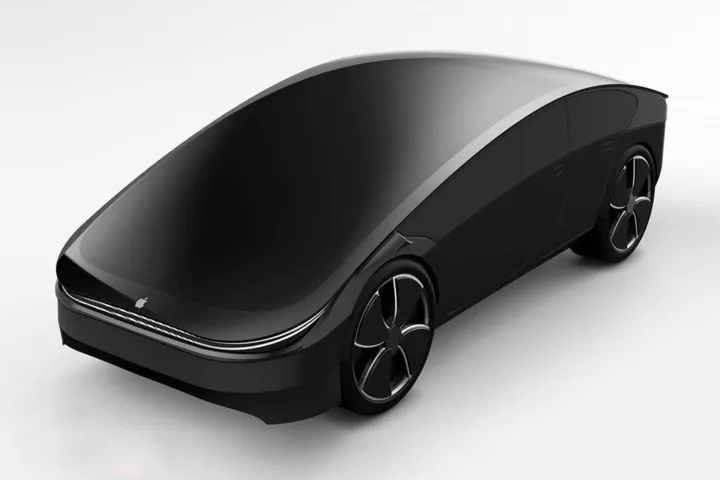 🙂 A very new concept model? Scroll down for a vertical compression of Canoo's Lifestyle Vehicle ......
Jony Ive has left Apple in 2019, and his disagreement with Apple's design team hints at the 'difficult' nature of Apple Car design thinking.
From inside, the buzz is that the Apple Car has no steering wheel or gas/brake pedal and is entirely focused on 'autonomous driving'. The design is similar to Canoo's Lifestyle Vehicle, where the driver doesn't need to sit behind the wheel. Of course, the design would have to be approved by the National Highway Traffic Safety Administration.
The center console is equipped with a large iPad touchscreen that integrates Apple's hardware devices and services, and the user relies on the screen for interaction. This is not very different from Tesla.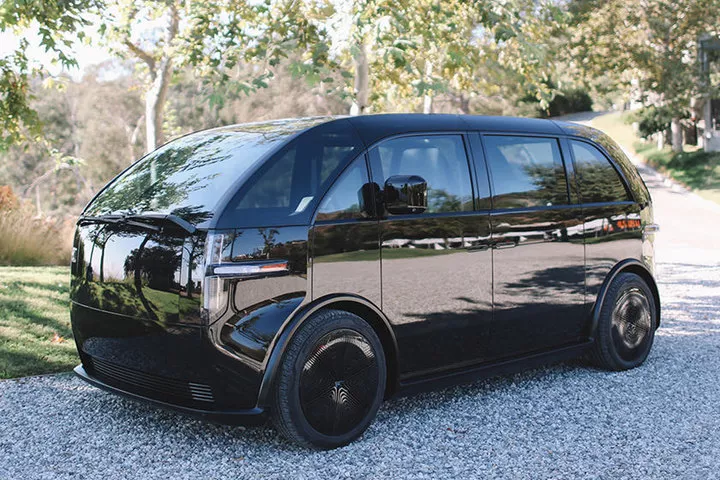 ▲Canoo's Lifestyle Vehicle, which had several rounds of contact with Apple and was eventually acquired by another company
Chips are not sought after. Apple's chip engineering group has developed the M1 and M2 chips, and the one built for the Apple Car is potentially one of Apple's most advanced pieces of hardware. It's capable of handling self-driving needs with artificial intelligence computing, but there's no word explaining how the complex internal cooling system will be designed to dissipate heat. Industry analysts speculate that the chip could be called 'C1' and is based on a modification of the A12 bionic processor.
On the sensor side, Apple has been in communication with four optical radar suppliers, and is targeting smaller, cheaper and easier to mass-produce 'revolutionary' sensors, whereas current optical radars are all relatively large and can't be supplied to the automotive industry in large quantities.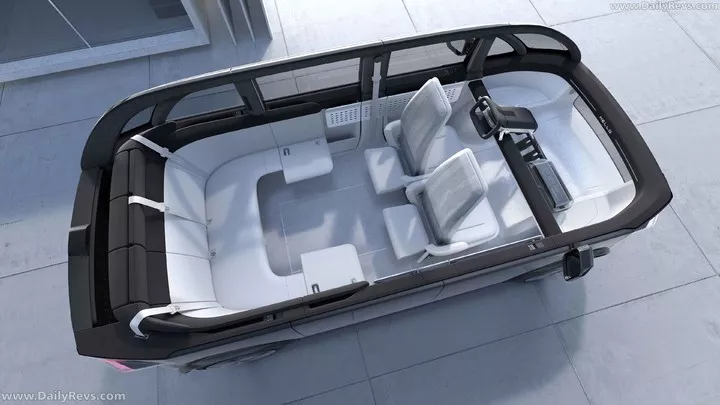 The interior of the Lifestyle Vehicle, and probably the Apple Car as well
The battery technology is described as a 'transgressive' design that is said to be as 'astonishing' when it comes out as it was when people first saw the iPhone. The battery has interchangeable modules on it to expand the capacity of the battery and free up further space inside the pack. This requires a smaller package size and more active materials.
Cost, too, is one of the things that concerns everyone. Just think about the price of Apple's other hardware, anyway, the Apple Car is going down the 'very high-end' positioning route and is set to be sold at a price 'significantly higher than a standard electric car'.
In the past eight years, that's all the Apple Car "portraits" we can gather for you to "follow the picture".
Eight years of hardship
Apple's interest in cars goes back far enough before the first iPhone. Founder Steve Jobs had considered developing an Apple car, meeting with the makers of the V-Vehicle in 2010. Then the car build fell through and the iPhone became a key project.
After the iPhone became Apple's most profitable product, the first news of the Apple Car surfaced in 2015.
In February 2015, a mysterious car was spotted driving around the streets of Northern California with multiple cameras on the roof. Some guessed it was Apple going to do something like 'Google Street View', while others said it had something to do with 'Autopilot'. Apple later came out and stated that it was a 'mapping project'.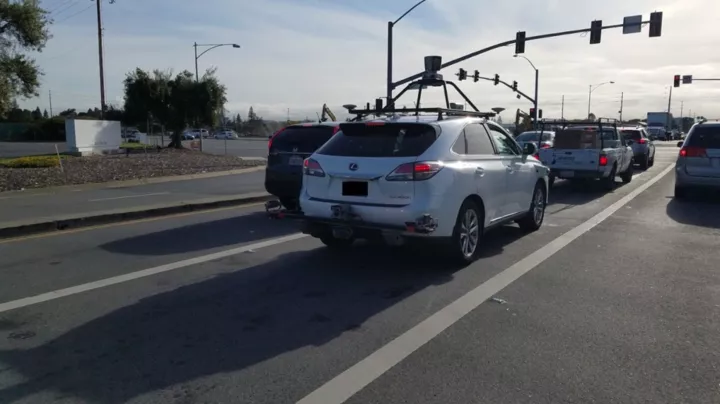 ▲ A Lexus RX with a camera on top mysteriously appears on the streets of Silicon Valley
Within days of the mystery car's appearance, an unidentified Apple employee broke the news to Business Insider via email, suggesting that Apple was working on a project to "compete with Tesla" and that a number of Tesla employees would be jumping ship to come along.
The news that Apple was on a hiring spree for automotive technologists and design experts soon couldn't be hidden either. However, at this point people still thought Apple was developing a CarPlay-based software platform and didn't think of it in any other way.
The most explosive news came to light in mid-February 2015. Apple was building an electric car with a project codenamed 'Project Titan', launched in 2014. The project team has been empowered by CEO Tim Cook to recruit more than 1,000 employees. Executives have also met with carmaker Magna Steyr and a partnership is expected.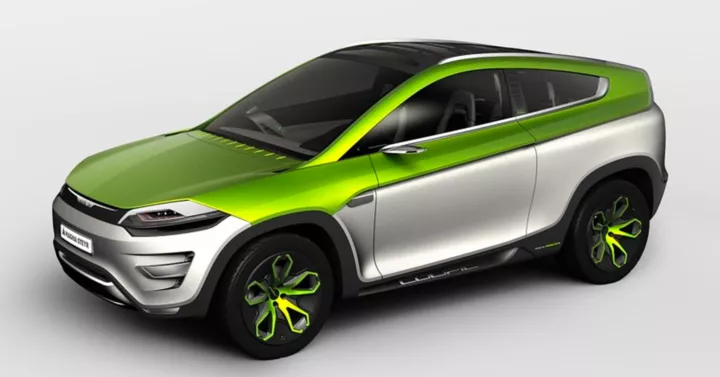 Magna Steyr is a car manufacturer in Graz, Austria, which develops and assembles cars for other companies and does not have its own label.
"Project Titan explores a whole host of technologies: silent power doors, an interior designed around the absence of a steering wheel and pedals, AR displays, optical radar sensors and ball-shaped wheels.
Technology ultimately has to serve a purpose, and there is disagreement within Apple as to whether to do autopilot or semi-autopilot. 2016 saw a wave of executive changes and the 'Titan Project' stalled.
Before the second big wave of layoffs in 2019, Apple Car was rumored to be all about making software and not hardware. After the 'Project Titan' team and the remaining 200-plus employees left earlier in the year, Apple acquired Drive.ai, a startup that designs self-driving shuttle services, in June.
In early 2020, Apple went through several rounds of talks with electric car company Canoo, talking everything from investment to acquisition, but in the end it didn't work out.Canoo developed a scalable, modular electric car platform, an electric minivan for major manufacturers, and later merged with Henessy.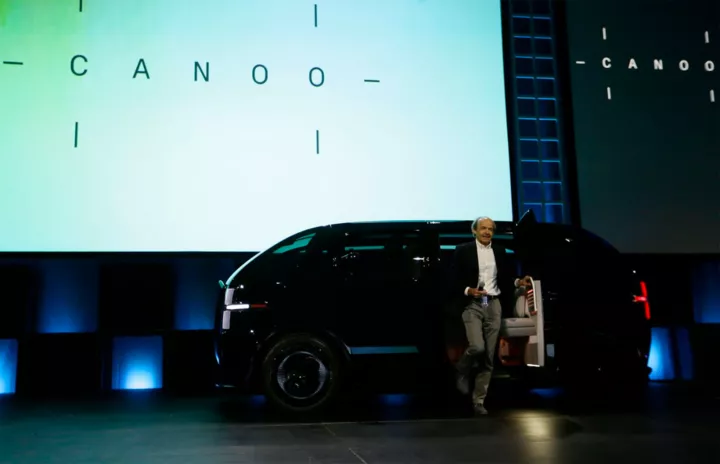 ▲ Ulrich Kranz is the founder of Canoo, a former BMW executive who also joined the Apple car building team
Apple Car has had an ill-fated life. There have been several major changes in leadership. Last year, John Giannandrea, head of artificial intelligence and machine learning, took over Project Titan, and after Doug Field, an executive from Tesla, left in September 2021, Kevin Lynch, who was responsible for the Apple Watch, came on board.
Apple has also hired Porsche executive Manfred Harrer, one of the Volkswagen Group's best engineers. Apple has also recruited former BMW executive Ulrich Kranz, the founder of Canoo, who developed the i3 and i8 for BMW, and two engineers from Mercedes-Benz, both specializing in vehicle dynamics.
However, Apple analyst Ming-Chi Kuo said in March that Apple's automotive team has been "disbanded for some time" and that a restructuring in the next three to six months would be enough to meet the 2025 mass production target.
The latest news is that Desi Ujkashevic, a longtime Ford engineer, joined the Apple Car team in May of this year. She has extensive experience building electric cars, having worked on the Ford Escape, Explorer, Fiesta and Focus.
Who's a friend?
Apple is rich and wealthy, but building cars isn't that easy.
At one point earlier this year, Apple's market cap soared to $3 trillion, making it the world's eighth-largest economy in terms of wealth volume, surpassing France and approaching India in terms of GDP ranking in 2021. Since the spring, U.S. tech stocks have plummeted and Apple's market cap has fallen quite a bit, now approaching $2.4 trillion, also higher than Italy's GDP.
For rich Apple, which uses hundreds of millions of parts from around the world every year to make high-end consumer electronics, but has never built a single car. Musk's Tesla, it took 17 years to start making a consistent profit.
▲ Apple likes to pretend the Apple Car doesn't exist. A Mercedes-Benz ML parked in front of Apple's former headquarters
Even when it comes to building phones, Apple's supply 'experience' has not been a smooth one. Its and Qualcomm have been in a 'global circuit' litigation war over 'patent licensing fees' since 2017, and it took two years to settle. In early July, news broke that Apple's own 5G baseband chip for the iPhone may have "failed to develop" and that Qualcomm will continue to be the exclusive supplier of 5G chips for the new iPhone in 2023, with a 100 percent share of supply.
In order to build the highly anticipated Apple Car, Apple has approached many suppliers, and in these unofficially revealed "contact trails", Apple's thinking about building a car is vaguely discernible.
Apple had considered partnering with South Korea's Hyundai, instead of having to run to Korea, it would just use Hyundai Group's Kia Motors' U.S. Georgia production line. Apple plans to invest about $3.6 billion in Kia Motors to create a full Apple-branded car, rather than a Kia car that includes Apple software.
Apple has its own 'calculations'. Kia is an established automaker with production capabilities in North America and is also willing to give itself control over the Apple Car's software and hardware.
According to Ming-Chi Kuo, Apple's initial car chassis is based on the platform of Hyundai's E-GMP electric car, with two electric motors front and rear, a five-link rear suspension, an integrated drive axle, a range of more than 500 kilometers on a full charge, and a high speed charge of up to 80% in 18 minutes. the E-GMP's high performance model is capable of accelerating to 96 km/h in 3.5 seconds and a top speed of 256 km/h.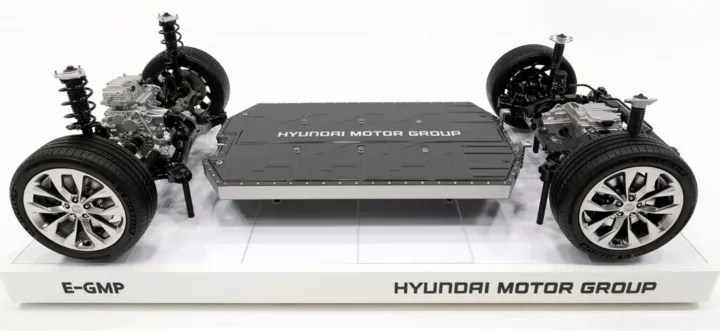 ▲ E-GMP 2020, modular, standardized and compatible with multiple charging infrastructures
The Apple-Kia partnership seems to have been put on hold with no follow up.
According to the Korea Times, Apple is "very close" to signing a contract with LG Magna e-Powertrain, whose manufacturing is "small and precise," so if the contract is signed, it proves that the Apple Car is not intended for mass production, but just a small production launch to test the waters.
Apple and Japan's Nissan Motor had brief contact about the details of the Apple Car, and none of the discussions made it to the top management. Nissan is concerned that Apple sees itself as a simple hardware supplier, and Apple wants complete control over the design of the Apple Car. Nissan has said publicly that it has no intention of changing the way it builds cars.
Apple is also playing Foxconn's 'idea'. Foxconn is a major iPhone parts supplier, has launched an electric car chassis and software platform, and is familiar with working with its old friend, but whether to use the platform or buy batteries has yet to be clarified.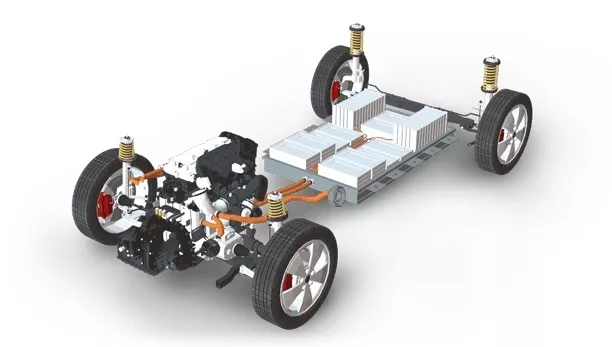 The LG Magna e-Powertrain platform combines LG's experience in electric motors, inverters, and on-board charging components with Magna's experience in electric powertrains and vehicle manufacturing.
Apple also had 'early talks' with the Chinese companies that make batteries - Ningde Times and BYD. The talks ended in failure after Ningde Times and BYD refused to set up a team in the US dedicated to Apple's car-building plans.
Apple also 'chatted' about parts for Japan's SANDEN The head of SANDEN's air conditioning division confirmed the news, but the partnership is out of reach because Covid-19 continues and the company is facing major financial problems.
In March, Oliver Blume, the CEO of German automaker Porsche, said that "exciting joint projects" were discussed with Apple, which is unclear as to whether he was referring to a collaboration related to Apple Car or CarPlay.
On July 12, Apple asked Samsung Display, a display maker owned by South Korea's Samsung Electronics, to speed up the development of a micro OLED panel that could be used in AR devices, according to people familiar with the matter. The device was featured in the original 'Project Titan'.
**Get Tesla's life
The above statistics may not be complete, however, it reveals that Apple's idea of building a car is very clear: firmly control the midstream chain, the battery Package self-research, the system chip self-research. The downstream can completely rely on Apple's own strong marketing ability and the channels of each store to "experience plus sales".
The upstream of the new energy vehicle industry chain, mainly raw materials, this part of Apple makes little effort. This link, lithium, cobalt, nickel, graphite, rare earths as the main minerals, lithium carbonate used in batteries is the key raw material. At the same time, in order to range, the car lightweight requirements are getting higher and higher, and the demand for magnesium and aluminum alloy is also increasing.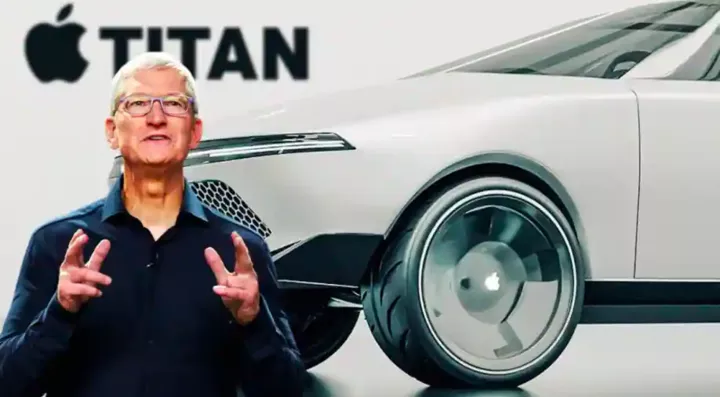 ▲ Apple CEO Tim Cook has expressed admiration for Tesla
In the midstream of the industry chain, the first is battery manufacturing. The battery is the largest proportion of the material cost in new energy vehicles, and new energy vehicles are expensive, mainly because the battery is expensive. In the cost composition of electric vehicles, the proportion of power batteries accounts for half.
Apple is clearly looking for a more established battery supplier to work with.
Next is the "three electric" - battery, motor and electric control. The "three electric" type of technology is the core technology of car electrification, of which the battery system is the heart of the car. To build a battery system, battery cell technology, package technology and battery management system (BMS) are the "iron triangle".
In addition to battery cell technology, Package technology and BMS, Apple is involved in the process of assembling Li-ion battery cells into groups, either as a single cell or as a series-parallel battery pack, which Apple uses as a single cell.
Package Each process is complex, including custom development technology for battery management system, thermal management technology, current control and testing technology, module assembly design technology and so on. Moreover, this process is labor-intensive and Asia is the largest assembly base.
BMS includes four links: upstream materials, BMS modules, BMS finished products and downstream applications, BMS enterprises are responsible for research and development, production of BMS modules, and then integrate the required modules according to the specific requirements of power battery manufacturers or vehicle manufacturers, and finally make a finished product. Previously, BMS was provided by professional power battery companies as a whole, and traditional car manufacturers had little involvement in this piece.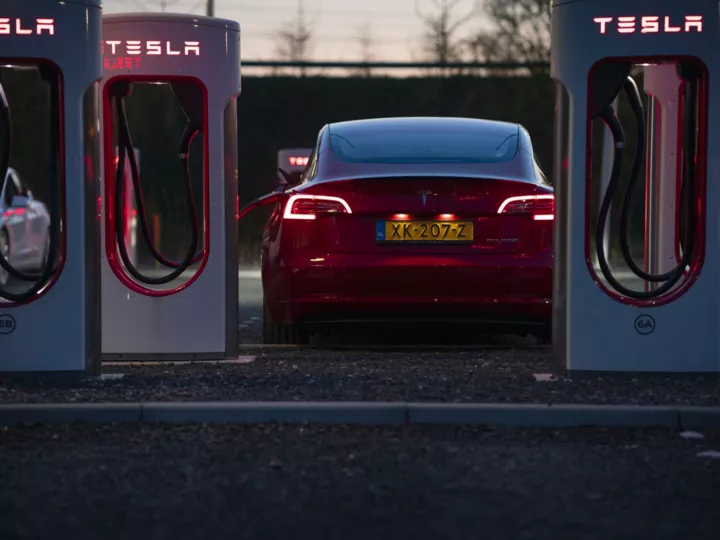 ▲ A Tesla Model 3 pulls into a Supercharger station in the Netherlands
Apple should not be left behind.
The third is "thermal management and components", which includes battery thermal management, automotive air conditioning system, electric drive and electronic power parts cooling system. The "Sandian" group, which Apple has contacted, has entered the EV thermal management market early through its strong system support capability, and is a leader in technology and can also provide complete vehicle thermal management solutions.
After the "triple electric" is done, it is a powertrain process where the chassis, body, chip and battery are assembled together and the hardware and software are tuned.
In fact, Apple's idea of building a car is more similar to the idea of building a mobile phone, relying on chips and interaction design to create a quality experience, and other things are left to the foundry well. And trade war, Covid-19 superimposed on the local war, commodity prices high shock, poor logistics, the supply chain will fall off the chain if you are not careful - last year a big lack of "core", causing a serious panic, I am afraid that many car companies then hoarded parts are still not used up.
Many American companies are swinging between the extremes of finding 'reliable' suppliers and lowering the cost of 'in-house' research and development, and Apple is no exception.
The challenges don't stop there.
On July 13, three of the Big Five U.S. tech stocks, Microsoft, Amazon and Google, announced layoffs and their share prices fell in response. Previously, Meta was laying off poor performers to make an example of them and let others 'roll up'. Tesla, which banned 'work from home', has laid off a few hundred people too.
With the expectation of a recession in the United States rising sharply, the technology giants "spring river is warm, the ducks are warm", and the whole new energy vehicle industry is a hundred boats fighting for attention.
The Apple Car has lost its first-mover advantage and the economic environment is poor, so if it can't revolutionize Tesla's life, it doesn't make much sense to toss it around for so long.