Financial News Service, June 21 (edited by Malan) The yen is still "hard", which is certainly a blow to Japanese consumers and businesses in the throes of inflation.
But there are two sides to everything, the weak yen instead sets off the strong purchasing power of other currencies, which is no doubt a rat falling into the oil can for foreigners, all a great bargain.
According to data released by a local research agency, the 128G capacity iPhone 13 is priced at 98,800 yen in Japan, which is equivalent to around CNY 4,900, but compared to the average price in other countries, the Japanese price is about CNY 1,300 cheaper.
Apple's official website in China shows that the 128G iPhone 13 is officially priced at 5,999 yuan.
A Swede working in Japan said he recently bought an iPad Pro, Apple Watch and other Apple products one after another from the Apple Store in Japan because they were significantly cheaper in Japan.
According to the exchange rate conversion, this Swedish boy in Japan to buy Apple goods, for him the equivalent of enjoying a 25% discount, this big wave of Apple's wool he has to thank the Japanese government to help him grip.
bargain hunters and bargain hunters
Japanese Prime Minister Fumio Kishida and Central Bank Governor Haruhiko Kuroda held talks on Monday, after which Kuroda said he would closely monitor foreign exchange trends, but the prime minister did not give special instructions, according to Japanese media reports.
Japanese media interpreted this as the Japanese government's tacit approval of the BOJ's continued ultra-loose monetary policy. As of Monday's close, the dollar reached 135.15 against the yen, depreciating by 17 percent so far this year.
The BOJ's attitude suggests that yen weakness will be the trend, which is the equivalent of sending a signal to foreigners with relatively strong currencies in their hands: buy!
In addition to iPhones, foreigners walking through the streets of Akihabara recently were carrying a variety of goods, including hand-me-downs and toys with Japanese characteristics such as Lego, which were also hot items.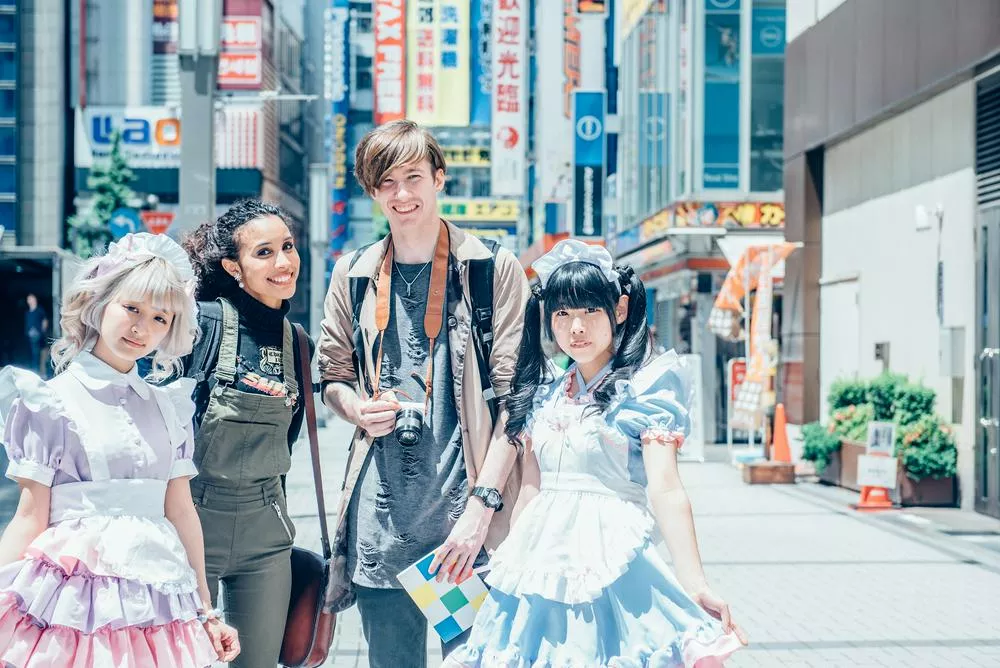 A Mexican boy who now lives in Japan said he now buys about 50 figures a day and sends them back to Mexico to sell them for a profit. A family from Iceland, on the other hand, pulled a large box of Lego out of their shopping bag, saying how extravagant it was to spend 22,800 yen on it while claiming that Japan was just too cheap.
The international student from the United States then pulled out her new Apple headphones and said: it's really cheap and I don't have to worry about rent. She also added a special note: everything is so cheap.
From a dollar and inflation perspective, her words are both correct and heartfelt, not only pointing out the weakness of the yen, but also hinting at the reality that US inflation is more powerful than Japan's.
Although Chinese tourists are still not able to go to Japan in large numbers to "pan for gold", but some shopping sites are very excited recently, taking advantage of the weak yen exchange rate promotions. For example, one shopping site claimed, "Recently the Japanese currency exchange rate really can't stop going down, and with our various promotions is a good opportunity to punt!"
Stimulating Foreign Spending
For the Bank of Japan and the Japanese government, a key consideration in maintaining ultra-easy money and letting the yen depreciate is to stimulate consumption and exports and boost economic growth.
Needless to say, it does do and excel at stimulating foreigners to spend.
Koji Shibata, chief executive of All Nippon Airways, previously said the weak yen was an excellent opportunity for Japanese tourism.
Last week, the Japan National Tourism Organization released estimates showing that it had received 147,000 foreign tourists in May, exceeding 100,000 for two consecutive months. And Japan resumed receiving visitors from 98 countries and regions around the world starting June 10.
The continuing low yen and the open entry policy are attracting more foreign tourists. I don't know if tourists from other countries touring Japan with masks will have a different flavor, but foreign tourists sweeping through Japan must be making a lot of money. If done properly, they may even reach the achievement of the Japanese government subsidizing their trips to Japan to make money and travel on the side.
A Swedish tourist can make over 2,000 kronor just from upselling an iPhone 13, isn't a 20% windfall worth a round-trip ticket to Japan?
And the massive export of Japanese goods to foreign countries on the cheap has satisfied the shopping appetite of foreign consumers while allowing them to keep their purchases within their budgets. This may be a unique effect of Japan's ultra-easy monetary policy on global consumers in a global inflationary environment.
Inflation and Exports
For Japanese consumers, however, the Bank of Japan's monetary policy's intent to stimulate consumption is unlikely to be realized.
Ultra-loose monetary policy, in a hyperinflationary environment, not only does not help to increase the purchasing power of consumers, but even further stifles their spending space. In particular, with many industries in Japan dependent on imported raw materials, imported inflation from energy and food has already brought substantially higher costs, driving up the prices of essential goods in Japan as well.
Tadashi Yanai, the chief executive of UNIQLO's parent company, Xpress, has previously said that there is absolutely no benefit from a devaluation of the yen because most of Japan's business model is that raw materials are imported from around the world, processed for value-added re-sale, so the supposed advantage of devaluation would depend on the size of the company's imports and exports.
On the other hand, the limited salary increase cannot offset the price inflation, so Japanese consumers can only continue to live "low materialistic" on a "minimalist" life.
The very difficult situation in front of the Bank of Japan is that if you change the easing policy, Europe and the United States after the interest rate hike in the endless "recession theory" is a lesson learned, but if you do not change, inflation continues to rise, will further pressure on the survival of enterprises and Japanese consumers.
But for now, Kuroda doesn't see a 135 exchange rate as terrible, just expressing concern about rapid volatility. Perhaps, as Mr. Yen Eisuke Sakakibara said earlier, the dollar will dip to 150 against the yen this year, and until then, the BOJ won't stop the yen from depreciating.
In this way, the foreign inverted masters are not in a hurry to enter the buying spree now, after all, there may be a little more room for arbitrage in the future. It's the Japanese people and businesses that need to be mentally prepared for a protracted inflationary war.