In a Pinnacle exclusive, Twitter today announced a partnership with e-commerce SaaS giant Shopify, which will enable Shopify merchants to access their stores to Twitter in an easier way, using Twitter's e-commerce platform Twitter Shopping for marketing and promotion.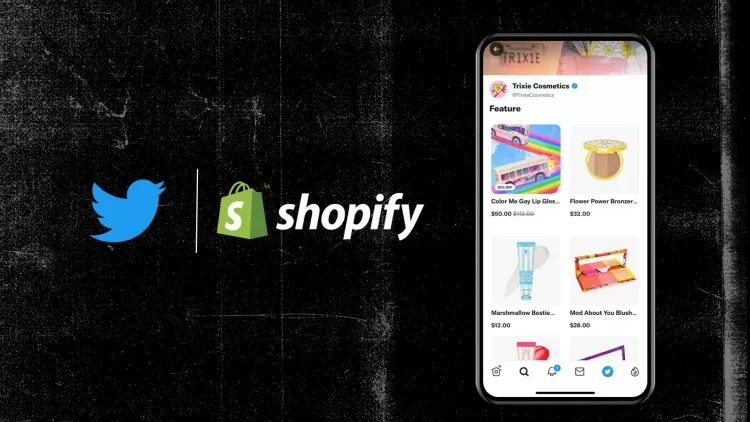 Photo credit: Twitter
The partnership will begin with U.S. merchants, first Shopify sellers can find Twitter in the app store in the backend of their store, and with just a few taps they can connect their Shopify store to their merchant's Twitter account, enabling Twitter-exclusive Ecommerce features, such as Twitter Shops, can add a store display area to a merchant's personal Twitter home page, showcasing up to 50 items.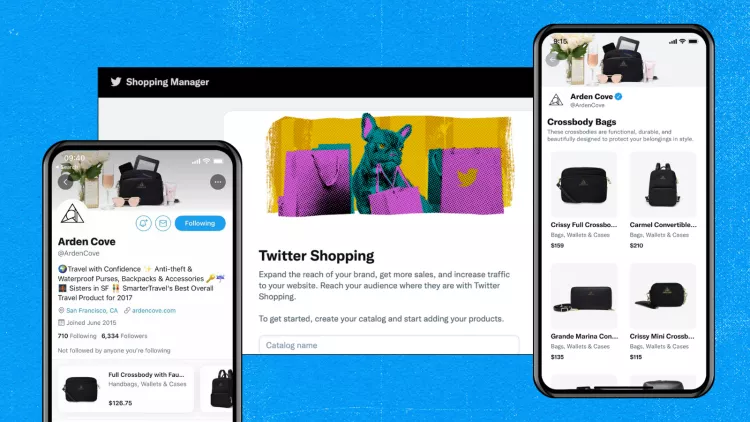 Photo credit: Twitter
Of course, thanks to the addition of Shopify , the inbound and outbound data of Twitter's e-commerce interface will also be synchronized with the standalone site, allowing sellers to perform one-stop management.
A Twitter spokesperson said, "Within the Twitter Shopping ecosystem, we offer a range of direct-to-end-customer features that direct shoppers to purchase sites. The partnership with Shopify is an important step in Twitter's relationship with shoppers, whether it's discovering products, driving willingness to spend, and making purchase decisions."
"Shopify is already one of the platforms of choice for eCommerce customers of all volumes, and we are excited to partner with an industry leader in the track to expand our shopping business."
Twitter's path to e-commerce
Twitter has long been an important platform for digital marketing, with many brands using it for online customer service from the start; or handing over accounts to marketing departments, generating countless viral marketing fame scenes. No matter how it works, users have seen the beauty of the social network - brands and organizations can communicate as authentically as regular people.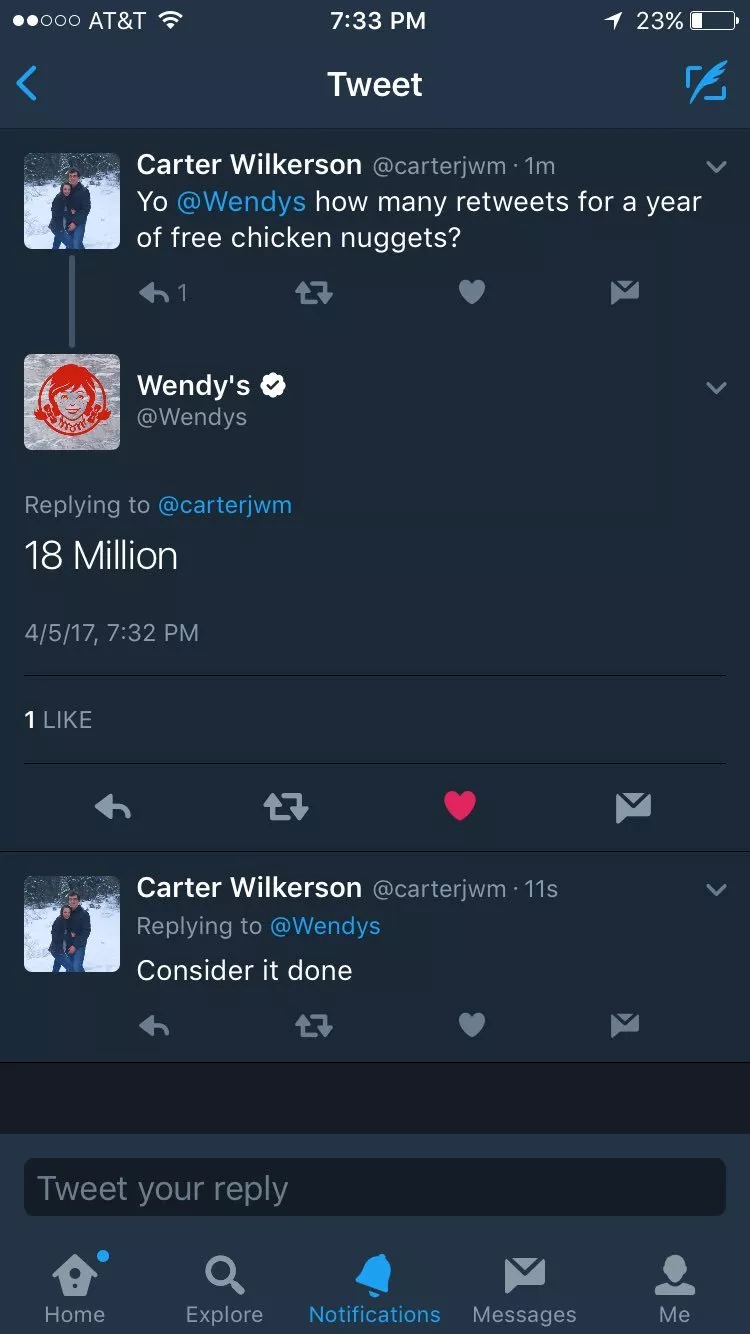 In 2017, fast food brand Wendy's can't beat all of you with a small 18 million retweet goal at your fingertips. Photo credit: Carter Wilkerson
In fact, Twitter has been making a push in the social e-commerce space. in 2014 Twitter had a feature for e-commerce, their first product was Buy button. This feature was a joint effort between Twitter and payment partners and allowed users to place orders directly without leaving Twitter. after 2017, Twitter turned this e-commerce pilot feature into a public service, offering one-click donations to social welfare organizations. And Twitter's serious approach to this e-commerce thing should start in 2021.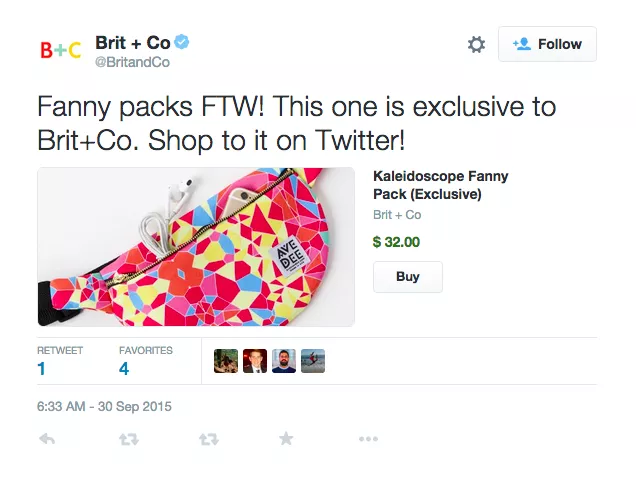 Photo credit: Twitter
That year, 6.5 billion worldwide shopping-related tweets. Influenced by the epidemic and local prevention policies, users and businesses also interacted more closely on the Twitter platform. Users tweeting, seeding, or simply retrieving real-life experiences with products are activities that require Twiiter to provide easier and faster functionality for merchants.In February 2021, at Twitter's annual analyst meeting Analyst Day, Twitter management shared the interaction between users and brands, and also revealed that it would begin exploring an e-commerce direction.
Starting in March 2021, Twitter first updated the preview image for independent site merchandise links. For independent site merchants using the Shopify system, when sharing an item link on Twitter, the Twitter interface will display the item image and price directly, making a clear distinction from the regular link.
In July of the same year, Twitter launched Shop Module (currently called Shop Spotlight) as a functional extension of Twitter's Professional Profile for brand users, allowing brands to add product showcases to their profile pages, which users click on to jump to a separate site. Compared to Twitter Shop, the initial Shop Module had very few display spots (only 5) and restrictions on merchant eligibility, so it could be considered a test run for them in the e-commerce space.
In November, Walmart first tested Twitter's live e-commerce feature Live Shopping, another of Twitter's new attempts at social e-commerce.The bar for Live Shopping is not high, and Twitter said in an interview at the time that it preferred to use live streaming to drive popularity, increase platform activity and allow merchants to communicate with users and customers in a more direct Twitter revealed that Walmart's live event garnered more than 2 million views, which is a relatively good result in the North American market where live commerce is just beginning.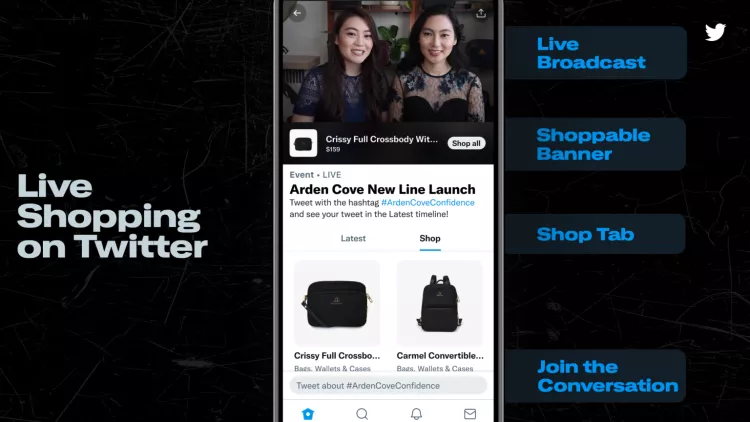 Image source: Twitter
This year, Twitter's e-commerce stride has moved even faster, with the just-launched appointment shopping alert feature Product Drops in addition to Twitter Shop, which allows merchants to post custom tweets and set product go-live times. Also posted is a Product Details Page that allows users who click on this tweet to visit the product details page, view product descriptions, prices, photos, etc., and even browse what others are saying about the product, and finally select a product launch alert.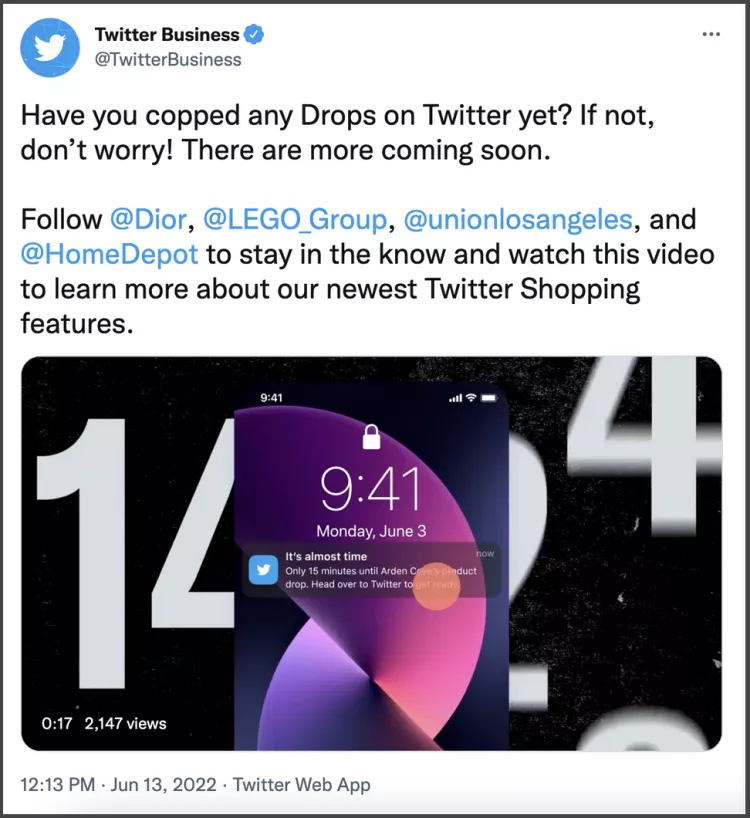 Dior, Lego, Home Depot and other brands are among the first to use the Product Drops feature Photo Credit: Twitter These new features mentioned above, which highlight elements merchants need in a native way, are progressively working within the Twitter app within the Twitter app to address the pain points brands have when marketing new products.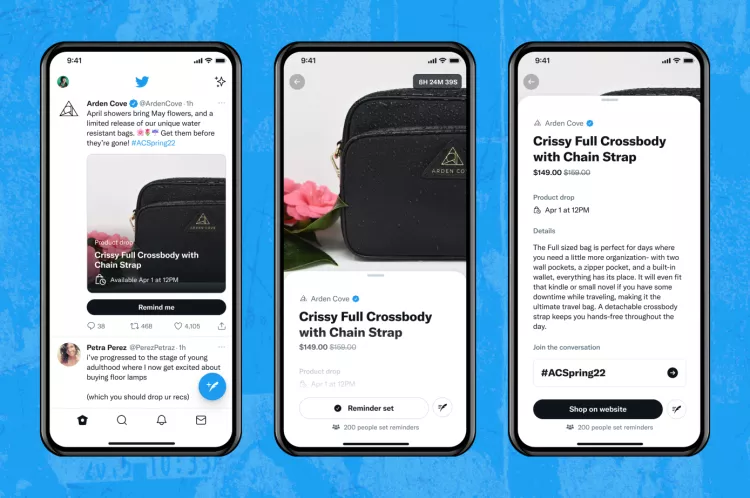 Photo Credit: Twitter
Twitter has had the last two years in its product line taken on a lot of new looks, exploring many areas and quickly bringing new features online, in addition to various features in the e-commerce space. For example, bounties and Super Follows (similar to the membership feature) have been added to support creators in cashing in. There are also things like newsletter service Revue, live audio Twitter Spaces, premium membership Twitter Blue, hexagonal NFT avatars and many more. Focusing on Twitter's business development over the past two years, I can feel that the social veteran is working on what he can do and what he can do for the platform's users, while constantly exploring the boundaries of the business and also maintaining the tone and experience of the platform.
Twitter released its Global Mobile E-Commerce Study, which shows that 72% of Twitter users will use Twitter to explore new products and 43% will discover new products on the platform in 2020. Across all countries and regions researched, Twitter users use mobile to shop more frequently than non-Twitter users.
Official data from Twitter for Business corroborates this observation. The data shows that 60 percent of Twitter users have purchased an SMB product because of a Twitter ad, 36 percent have paid to download an app, and 50 percent have visited the website of a Twitter SMB account they follow.
In a previous interview with JP Maheu by Pinoy, the Twitter VP of Global Customer Solutions also highlighted the uniqueness and high quality of Twitter users and why Twitter needs to make more moves in the direction of e-commerce. He said, "We think social commerce is the future, so we will invest more in shopping, and Live Shopping and Twitter Shops are both things we are trying to do in this area. Also, small and micro merchants will be able to show more information about their products to users on their Twitter profiles. Twitter Shopping is our focus for the next six or even eighteen months, and we will also show advertisers more innovations."
The ever-richer e-commerce features may open a new door for the future of Twitter.