When I used this MSI Titan GT77 to run the Time Spy loop in the scoring software 3D Mark, I recorded a video and posted it to the hardware tech group at work, and then someone said that it was the first time I had seen a real machine run so smoothly.
After all, it's the RTX3080Ti, the most powerful graphics card inside a laptop at the moment.
And of course, the 12th Gen Core i9-12900HX is pretty much the most powerful laptop processor out there. So the MSI Titan GT77, the reboot of its true flagship gaming notebook, has really stacked the deck, too, and not just for the graphics card and processor.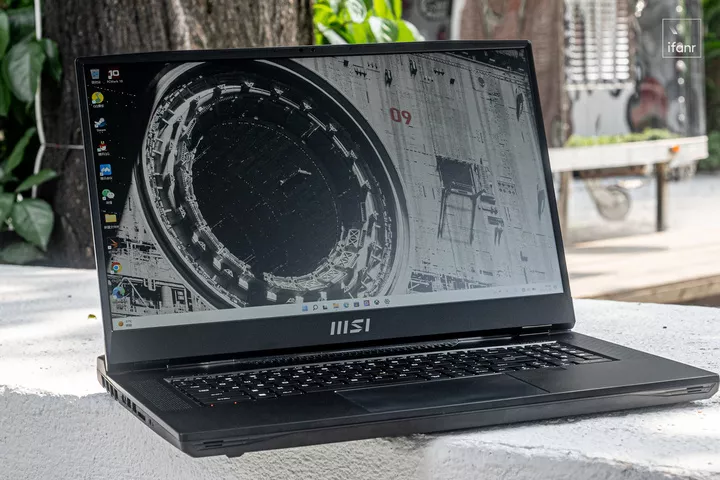 You think it's a laptop, but it's a desktop
I have to say that the MSI Titan GT77 can compete not only for the most powerful, but probably also for the heaviest laptop of the day.
The bare weight of 3.3 kg, coupled with the massive power supply and the 17.3-inch size, is destined to make it very unportable.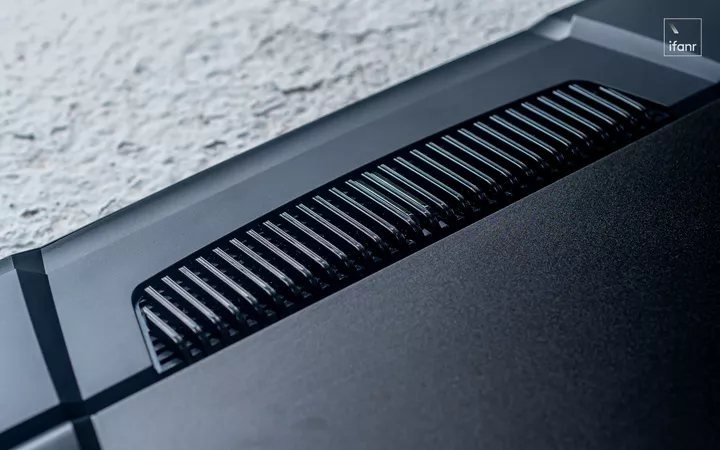 The MSI Titan GT77 also uses a combination of four fans and seven heatpipes for cooling, as well as adding multiple air vents, which leaves it with a large 'butt' at the back of the chassis, so it's actually a bit bigger compared to similarly configured gaming notebooks.
This is done for the sole purpose of ensuring that the CPU and graphics card can unleash better performance (up to 175W for the graphics card + 75W for the CPU), and there's even an option to overclock the graphics card inside MSI's setup software to help deliver more violent performance.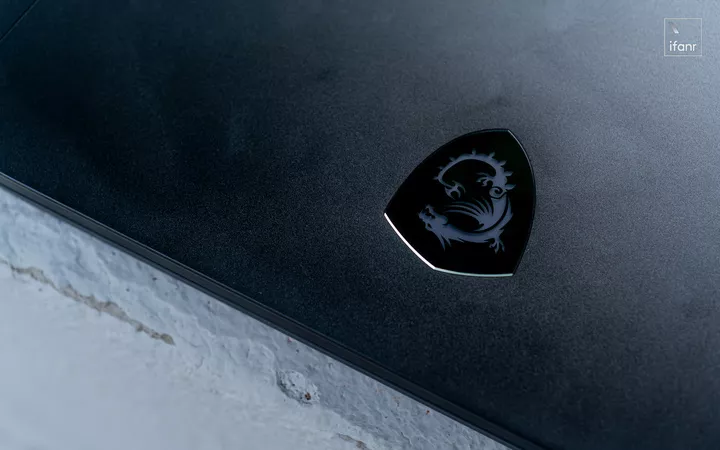 Design is not MSI's strong point, and this Titan GT77 looks bulkier than the flagship gaming notebooks from ROG, Thunderbolt or Alien. If the Red, Green and Blue lights' laptops look like 'warriors' inside games, this one is a no-nonsense 'tank'.
In the laptop world, though, heavy and strong are essentially linked, not just in terms of cooling and configuration, but in a few other details as well.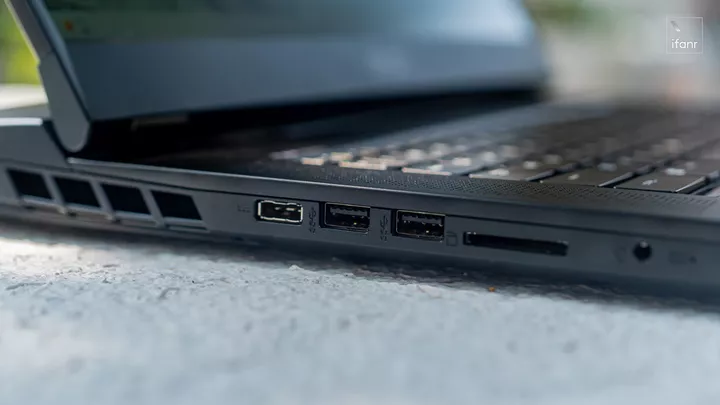 For example, the MSI Titan GT77 has dual mini DP and HDMI ports, three USB3.2 ports, two Thunderbolt 4 ports, as well as an RJ45 network cable connector, and an SD card slot, so you basically don't need to look for any adapters when dealing with various external keyboard and mouse or monitor needs.
In addition to the external interfaces, the MSI Titan GT77 also has internal graphics slots and PCIe 5.0 x 1 and PCIe 4.0 x 3 solid-state drive bays to support up to 128GB of memory, and the hard drive capacity depends on how the user upgrades.
Meanwhile, this time MSI and keyboard major Cherry have collaborated on the keyboard part of this notebook as opposed to the membrane keyboards of most notebooks.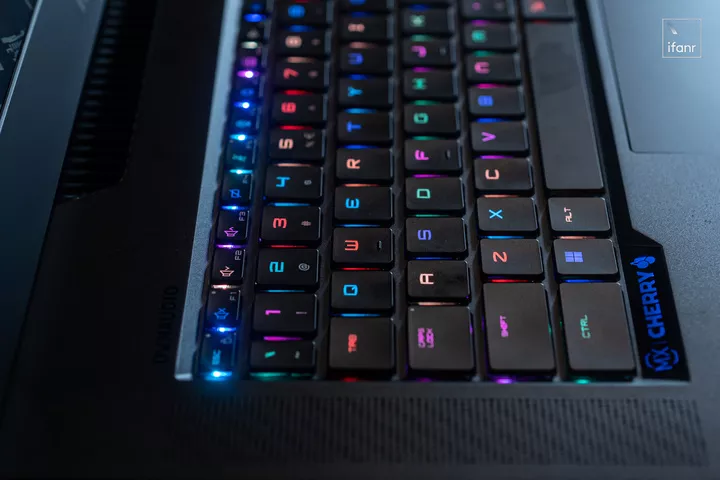 I have to say that the MSI Titan GT77 comes with an MX ultra-slim mechanical keyboard that feels very much at the forefront of the laptops I've used, on par with the optical-shaft mechanical keyboard of the previous ROG Gunstar 5 series, except that the MSI Titan GT77's keyboard feels more like a red-shaft, while the optical-shaft leaves some passages, similar to a green-shaft.
The fine print is that this slim mechanical keyboard has a drier hitting feel and longer (1.8mm) key travel compared to the sticky, thin feel of membrane keyboards, as well as a shorter response time and longer lifespan, making it more suitable for gaming scenarios.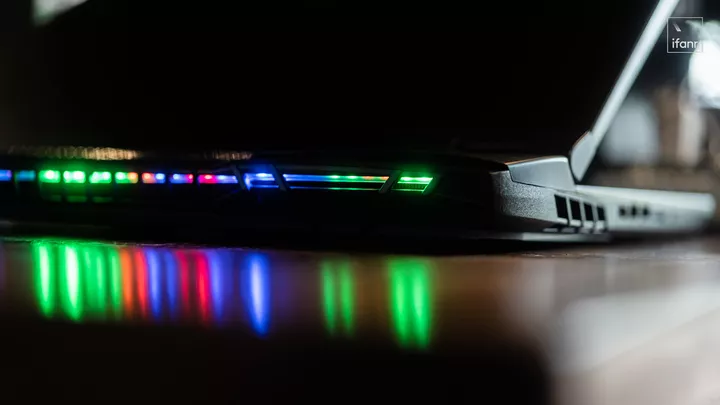 Befitting the keyboard is the RGB lighting. I was impressed with how brightly lit the keyboard is, as well as how saturated the colors are, making it seem more 'killer', and aesthetic preferences on this piece are a matter of opinion.
Overall, the main reason why this laptop is still about $10,000 more expensive compared to big name gaming notebooks with similar configurations is that it's holding onto the desktop mindset of going for the heap and having a little better performance on the cooling, keyboard, and other levels.
Also, its unportability makes it more suited to staying on the desktop rather than running around with the user.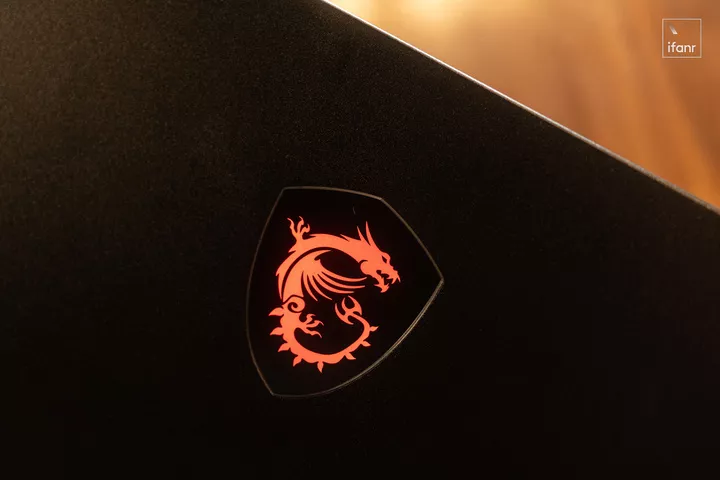 Come on, run some points
For the familiar scoring session, we still pulled out CPU-Z, GPU-Z, PC Mark 10, 3D Mark, CineBench R23, GeekBench 5, and AS SSD to see how it performs (the following tests were all done at room temperature of 24°C, with a direct connection to the solo display, and in performance mode).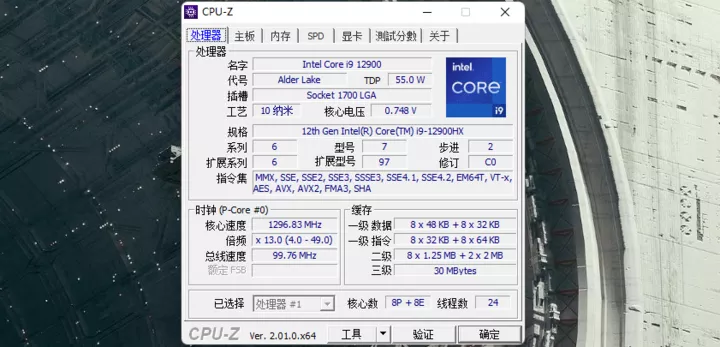 CPU-Z shows an i9-12900HX TDP of 55W, 8 performance cores, 8 efficiency cores, 24 threads, and a 10nm process.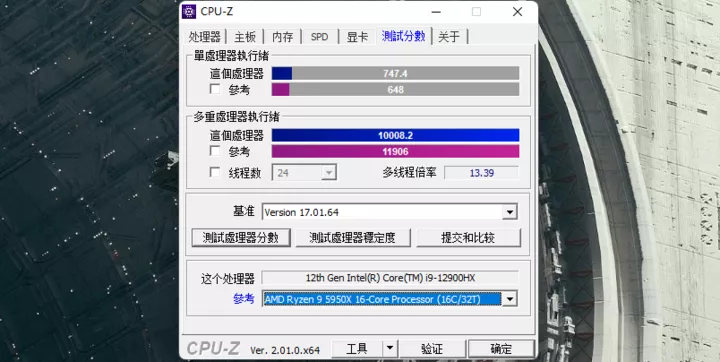 In the simplest CPU-Z score session, the i9-12900HX single-core is a cut above the previous generation of AMD's flagship desktop chip, the Ryzen 9 5950X (TDP 105W, 16 cores, 32 threads). The i9-12900HX performs very well when compared with the differences in thread and TDP thermal power consumption.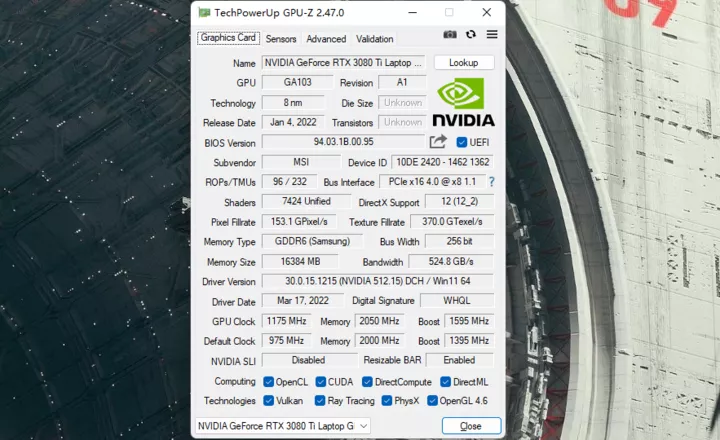 GPU-Z shows this RTX3080Ti with 16GB of video memory, 524.8GB/s of bandwidth, 7424 CUDA core stream processors, and 232 Tensor cores.

In the PCMark 10 benchmark test, the MSI Titan GT77 scored a whopping 8139, beating 98% of the results, with the remaining 2% supposedly being mostly desktop versions of the 3080 or 3090 running the scores.
As a comparison, we previously ran a score of 7336 with last year's top configuration of i9-11980HK + RTX3080, so it's still not a bad year for performance improvements in top gaming notebooks.

When it comes to GeekBench 5, this i9-12900HX scores 1716 single-core and 15875 multi-core. The i9-11980HK (8 cores, 16 threads, TDP 45W), also used as a comparison, scored 1613 single core and 9175 multi-core, again a significant improvement.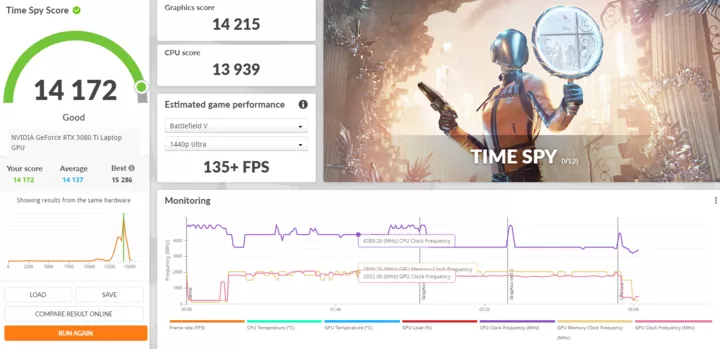 In the Time Spy section of 3D Mark, which tests flagship graphics cards, the MSI Titan GT77 scored 14,172, again quite a bit higher than the 11,941 scored by last year's top configuration of i9-11980HK+RTX3080.
So in terms of overall performance, the i9-12900HX + 3080Ti does seem to be a significant improvement.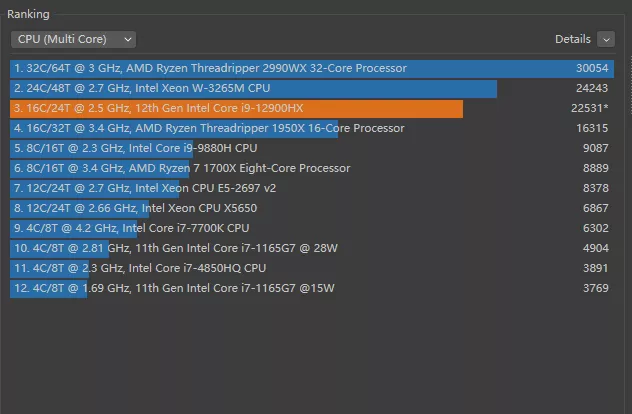 The i9-12900HX scored 22531 in Cinebench R23, a test of CPU performance only, making it one of the few consumer processors to exceed 20,000 points.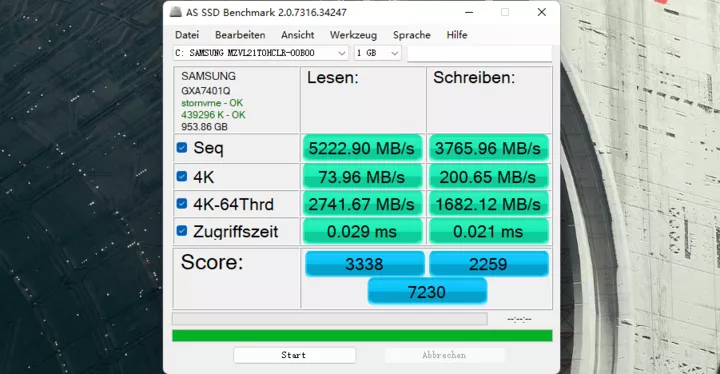 Finally, let's take a look at the SSD that comes standard with this machine, and after comparing models, it looks like MSI purchased this SSD from Samsung in bulk, and it's exactly the same as the MSI GE76 gaming notebook we tested last year, with similar test scores and a mid-range SSD.
However, this hard drive test result is for reference only, because this gaming notebook I have is only an engineering machine, the screen (1080P, 360Hz) and hard drive (3TB) are not the same as the national line.
Overall, the gaming laptop performs quite well in the runtime segment, for the size and weight, and for the price (GB i9+3080Ti+64GB+2TB+4K screen for $34,999).
Have a game
Of course, we don't buy gaming notebooks to run scores, we buy them to be productivity tools (to play games).
So I opened up my long-lost Steam and downloaded Cyberpunk 2077 again.
With the 3080Ti, it's only natural to go on the toughest mode, and in the game settings I turned all the graphics settings for Cyberpunk 2077 to the highest, with DLSS auto, including the raytracing lighting in raytracing set to 'sick'.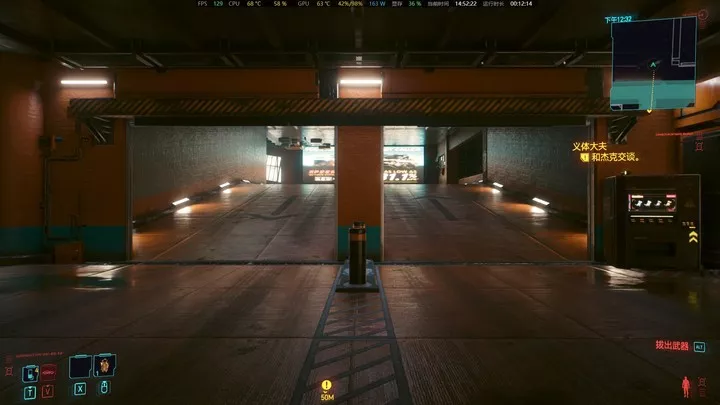 ▲ Light tracing off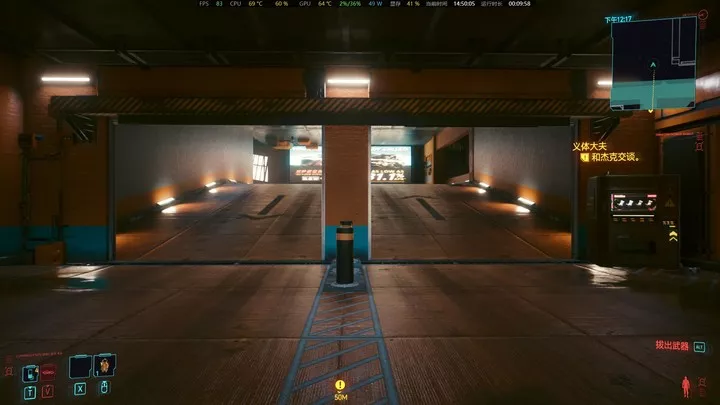 ▲ Light tracing on, light tracing light perversion
The MSI Titan GT77 can achieve an average frame rate of 80FPS at 1080P at the highest quality settings with sick light tracing.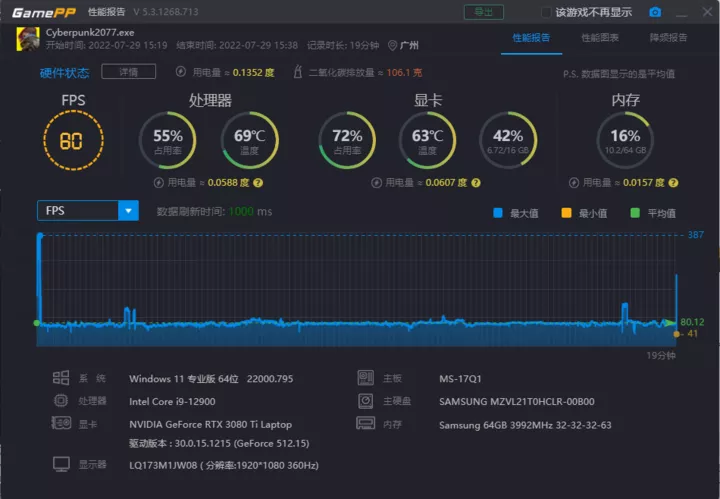 ▲ Highest picture quality, frame rate of the game in light tracing perversion
It must be noted, however, that at this setting, this gaming notebook is quite noisy and hot in operation, and with the C-side of the body being metal and conducting heat very well, the top of the keyboard area will feel noticeably hot and the fan will be loud, while the AWSD area of the keyboard will also feel hot. Therefore, it is recommended to game with an external keyboard and mouse.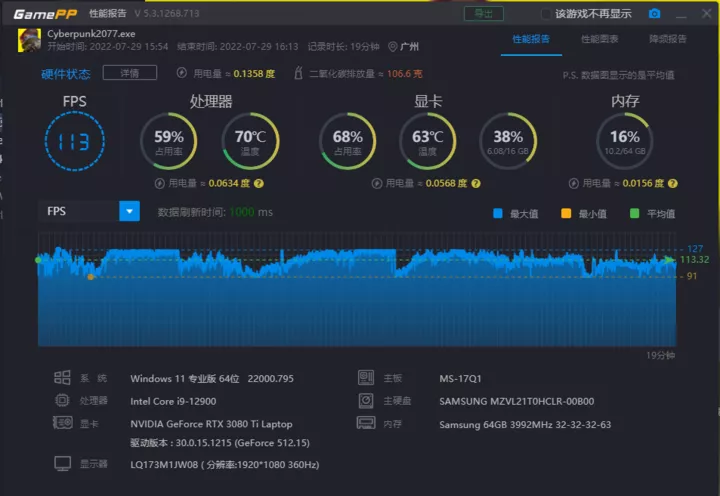 ▲ Highest image quality, game performance with light tracing off
If you turn off the light tracing and play the game at the highest image quality, then you get a very smooth gaming experience, with an average frame rate of 113FPS.
Meanwhile, during stressful gaming sessions, the MSI Titan GT77's actual cooling performance was actually quite good, with CPU temperatures and graphics card temperatures significantly lower than those of last year's MSI GE76 running Cyberpunk 2077 at the same settings, even if my hands were feeling just as hot.
Overall, the MSI Titan GT77 has little problem subduing Cyberpunk 2077, except for the two unavoidable issues of temperature and noise. However, when faced with less stressful games, such as CS:GO, its temperature and noise are still noticeable.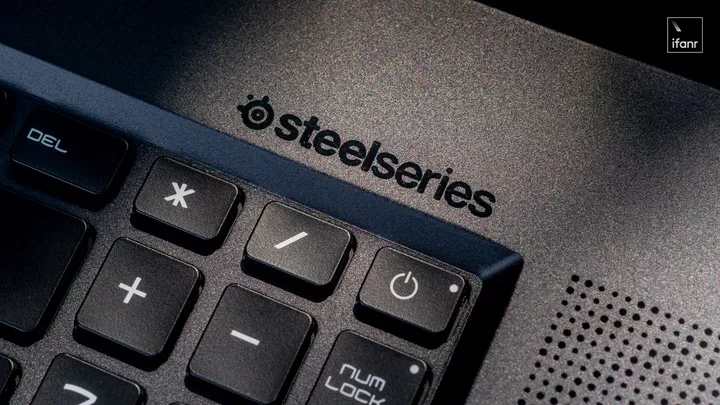 Finally, let's talk about the positioning of this gaming laptop. As a notebook that costs $34,999 and is also big and heavy, the MSI Titan GT77 is clearly not aimed at the average user, but rather at the gaming enthusiast community with enough budget.
On the other hand, it faces competition from models such as the ROG Gunmetal 5 Plus Top and Lenovo Saver Y9000K Top, big names that are priced a bit lower in similar configurations, and there's a question as to whether the MSI Titan GT77's stack of materials in terms of cooling and keyboard will appeal to consumers.