On June 9, the former New Oriental English teacher dongyuhui returned to the spotlight. He became the No. 1 in the hot search of Tiktok that night, and the No. 1 in the delivery of goods at the same time. During the peak hours, a single audience of 40000 was online. He introduced the steak in standard English, and could also casually describe the product as "beautiful as a mountain spring, like the bright moon, like the wind through the canyon, like a dream planted at night"; He introduced the iron pot. "It's the mother's hand, the father's sad face, and the old man's heart looking forward to his wandering son's return home." He said that ham is made of wind, salt, magic of nature and time.
On the afternoon of June 10, the "New Oriental anchor" went on a hot search; At about 22 p.m. that day, after YuMinHong appeared in the live room, the peak number of online people in the live room exceeded 100000, although the number of people in the live room a few days ago was only a few thousand; The New Oriental live broadcast platform Dongfang Zhenxuan disclosed that the Gmv on that day had exceeded 10 million yuan, with 320000 new fans.
On June 10, in a live broadcast brand group in the industry, the Pearl of Oriental Zhenxuan business staff also became a hot target for cooperation. Mingzhu sighed: "yesterday, it was said that he was not the head anchor and did not give the best mechanism."
It was only half a year since Yu Minhong's next live broadcast in December last year.
Famous laid-off teacher "ZhongGuanCun Jay Chou"
After tutoring about 500000 students for eight years, dongyuhui, 29, became a live broadcast host selling agricultural products. He shook his hands when he took the ham live, and apologized to the audience that it was because of lack of sleep.
"The first taste of this steak is juicy. Your teeth are called tender. We generally say that one thing is tender and can be delicious..."
Dongyuhui preached English while selling steak in the live studio. From Dufu and Sudongpo to Nietzsche, Hegel, Socrates and Shakespeare... As early as March this year, some investors lamented his knowledge and decided not to sell stocks even if they lost money. On June 10, the Hong Kong stock New Oriental online rose by more than 40% in the intraday trading.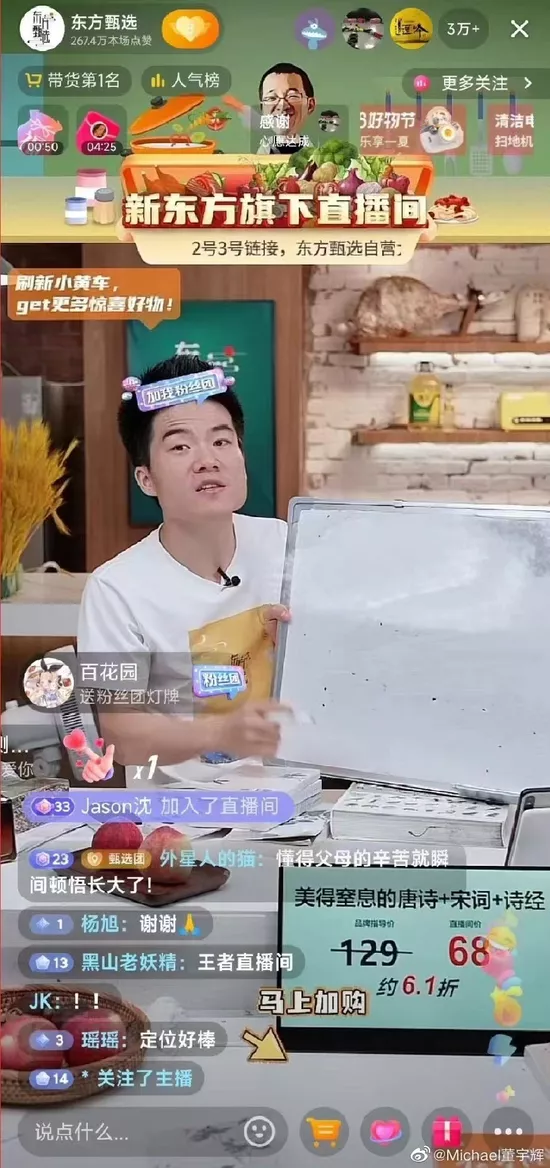 Before his popularity this time, dongyuhui was already well-known in the industry. He was originally a famous English teacher and discipline leader of New Oriental online senior 3. He was known as "Jay Chou in ZhongGuanCun" and students called him "teacher Jay." dongyuhui has been the real subject of the college entrance examination for five consecutive years. In fact, dongyuhui is a well-known online teacher recommended by many people.
According to previous media reports and the introduction of New Oriental, dongyuhui, 29, was born in rural areas. When he graduated from university in 2015, he had the opportunity to guarantee his postgraduate education and the job opportunity with an annual salary of 200000. But at that time, his father asked him, "if you build a good car or expensive watch, and then sell them to very rich people, what value or contribution will it make to the development of society in five to ten years?"
This sentence awakened dongyuhui. He realized that the work that can influence, change and achieve people is the most valuable, so he decided to do education. Two years later, he became the youngest head of the English teaching research team of New Oriental Xi'an Branch. In previous interviews, dongyuhui revealed that he would let himself read a lot of books in order to influence more people.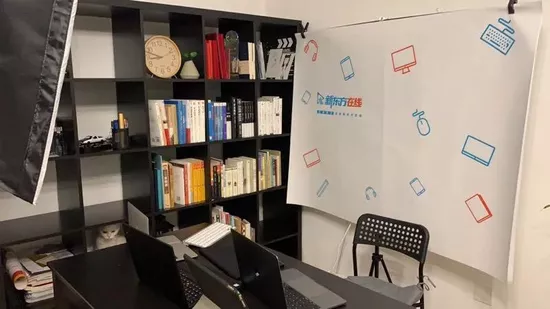 (in his workshop in Xi'an, the bookcase is full of books.)
"not only can I do. but also I can do" ; "Because I believe, I see"; "What you do in March and April, may and June will give you the answer"; "You will spend your life as you go through the epidemic"... These are the golden words of dongyuhui in the New Oriental public welfare teaching. Compared with his knowledge of English, dongyuhui's knowledge and positive views in English classes and live broadcasting rooms from time to time convey more energy. One of his students commented that he can always bring hope and let you out of your bad mood.
Dongyuhui said in a speech of 9000 people: "when you recite words, Alaska cod are jumping out of the water; when you calculate math, seagulls in the South Pacific are skimming the coast; when you study at night, the polar circle of the earth is colorful." this passage has been circulated on the Internet and adapted on different occasions.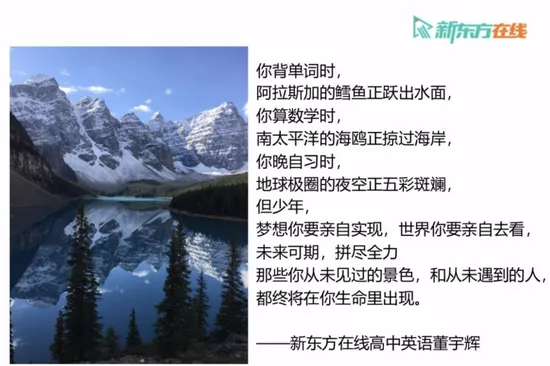 In April this year, dongyuhui shared a student's message in the circle of friends. The other student was a student from a small county in Anhui Province. Due to the lack of English teaching resources, he got 139 points in the college entrance examination after learning dongyuhui's free online class. He is particularly concerned about his impact on children in rural and regional areas, because local educational resources are relatively scarce. Once, dongyuhui paid half of the tuition fees to a student who could not pay the tuition fees. In order to protect the other party's self-esteem, he lied that the school was free.
Dongfang Zhenxuan hits the "live broadcast ceiling"
"Finally, we see that senior intellectuals have broken into the field of live broadcasting and goods delivery. This is the beginning of the reform of live broadcasting. The Book King arrived." a comment under the Dongfang Zhenxuan Tiktok won the highest praise.
After the "double reduction" last year, US New Oriental (nyse:edu) insisted on the main business of education, and Hong Kong New Oriental online (01797.hk) opened a new live broadcasting business. A few months ago, dongyuhui received an e-mail from all the staff. New Oriental Group recruited and selected anchor speakers for all employees, and officially launched the MCN project, which means that a number of highly educated bilingual talents have entered the live broadcast market. After several rounds of deletion, dongyuhui became one of the anchors of Oriental selection.
At 9:20 a.m. on June 11, Dongfang Zhenxuan still ranked sixth in the list of audio products, with nearly 2million fans. In the live room of host yoyo, netizens were still enthusiastic. Yoyo talked about the world history of that time from Genghis Khan, timujin, ancient Rome, etc., and said "trickling into the Yangtze River Sea" from time to time. The scene was especially like a world history course.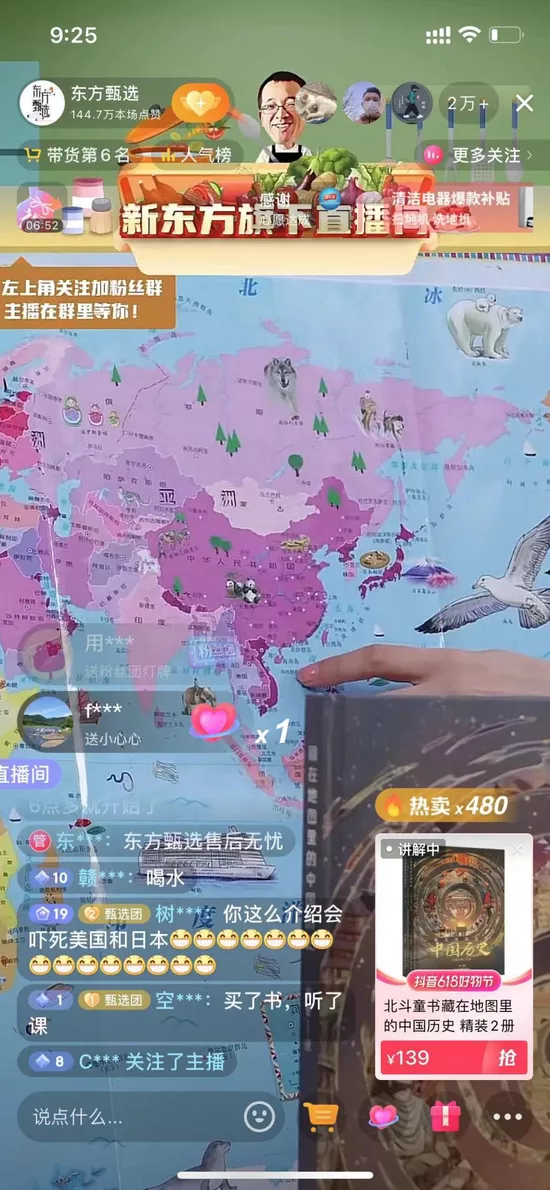 "The beauty of life lies in understanding and appreciation. Don't define human arrogance as conquerors. Those who are stupid will eventually pay the price."
"The ultimate romance is the universe stars, and we are the children of the universe stars".
Similar statements were heard from time to time in the live broadcast room of Dongfang Zhenxuan.
"Here is enjoyment"; "Tiktok left LuoYongHao and came to New Oriental"; "If you don't buy knowledge, you can enjoy it"... The message in the live broadcast room reveals consumers' affirmation of knowledge. Compared with other live broadcasting rooms, in addition to the high-density bilingual delivery of goods, the Oriental selection live broadcasting room also popularizes common sense of life, geographical knowledge, poetry and poetry, western philosophy, etc.
Like dongyuhui, yoyo is also a post-90s. He entered new Oriental online as a master of education of Hong Kong University. They are generally highly educated, and because of the advantages of English, there is no lack of international vision in their speech.
New Oriental has many teachers like yoyo who are going to live broadcast to bring goods. At present, the anchors of New Oriental are mainly divided into two categories. One is the content anchor team composed of New Oriental online teachers, who are also the anchors of the Oriental selection studio; The second category is New Oriental online, as a MCN team, which incubates hundreds of anchors within New Oriental. They will start their own accounts, not limited to the agricultural field.
On December 8 last year, New Oriental posted a document on the wechat platform. At 8:00 that night, it will launch a new platform for live broadcasting with goods, "Dongfang Zhenxuan". At the beginning of its establishment, the live broadcasting of Dongfang selection has been in a downturn. Even though YuMinHong has personally brought goods for many times, the number of live broadcasting online has been around hundreds for a long time. Dongyuhui and yoyo once said in the video, "for a long time, there are only a few people in the live broadcasting room, and their parents have ordered two orders." After walking from the classroom to the live broadcast room, some people attacked dongyuhui's appearance, and others complained that they had lost money by buying stocks.
"It has been six months since Dongfang selected the live studio, but more people have come this week than in the past six months. In fact, life is not so lucky. Let nature take its course and do what it takes." At noon on June 10, yoyo sighed at the gap between goods.