Driven by the news that "New Oriental anchor" suddenly became a hot search, New Oriental online (01797) soared on June 13. As of press time, it soared by more than 100%, up 100.64% to HK $12.5/share, up more than 220% in June. Driven by this, New Oriental (09901), the parent company of New Oriental online, rose more than 17%, with the largest intraday increase of 25.47%, reaching HK $16.06 per share.
Access: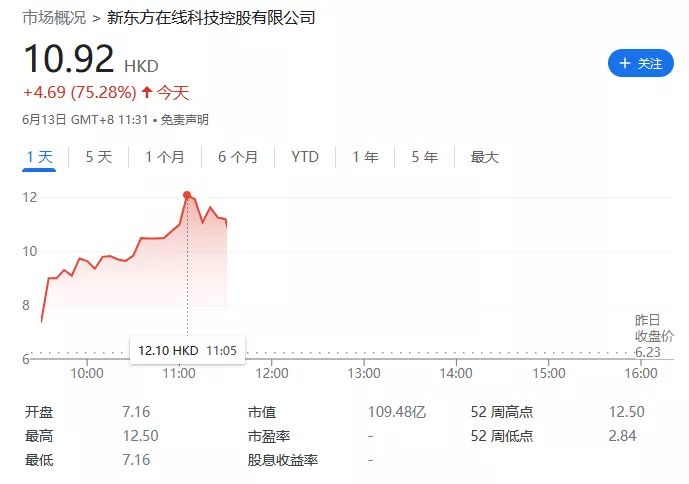 Public information shows that New Oriental online and New Oriental are subordinate, and New Oriental online is a professional online education website under New Oriental.
Behind the sharp rise of New Oriental's series of stocks is the screen brushing effect created in a very short time by New Oriental's "Oriental selection" live studio (the main operator is New Oriental online). According to the data released by Zhongxin Jingwei, since the "bilingual delivery" was launched on June 10, the number of fans in the "Oriental selection" live studio under New Oriental has increased by 1.57 million, the sales has increased by 17.77 million yuan, and the number of online viewers has reached about 100000, an increase of more than 10 times compared with the previous peak of 1000 online viewers.
At the same time, according to the data of the third-party platform, on June 11, the number of viewers of "Oriental selection" in the official live broadcasting room of New Oriental online reached 12.746 million, and the Gmv (total commodity trading volume) on that day was 21.043 million yuan, ranking sixth in the list of goods on the Tiktok platform.